Customer experiences
Customer experience Easy Rider tricycle - Geert van der Linden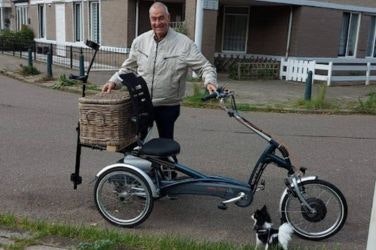 Geert van der Linden has had 3 strokes and therefore has difficulty walking and cannot drive a car. For several months he has the Easy Rider e tricycle, which is a godsend for him. Soon he will join a group of Van Raam cyclists on a bike ride from Hoek van Holland to Scheveningen.
Bike tour Hoek van Holland
"An acquaintance of mine and I both have an Easy Rider e bike tricycle and a good friend of mine has an Easy Sport recumbent e tricycle. All three of us are very happy with our bikes. Soon we will cycle with a group from Hoek van Holland along the waterway and over the dunes to Scheveningen.

The acquaintance, good friend and I cycle more often with the three of us. We decided to make a tour from Hoek van Holland to Scheveningen this month. And the enthusiasm is contagious, because more interest came and by now the group has grown to 8 people. We are looking forward to the bike ride immensely!"
My Easy Rider e bike tricycle
"I myselfhave the Easy Rider e bike tricycle since September 2020. I have had 3 strokes and can therefore hardly walk or drive a car. The Easy Rider is a godsend. I jumped in the air when the bike arrived, I've really been looking forward to it.
 
Meanwhile, I have 6155 km on the counter. I can go anywhere. I use the e tricycle every day, for example to go to my mom in The Hague and to do some shopping. Or I just cycle to Hoek van Holland or Kijkduin."
More and more Van Raam bikes
"When I look around I see more and more Van Raam bikes. The more I visit the dunes or Hoek van Holland, the more I encounter the bikes. We often get nice comments from bystanders and have a lot of attention. Coincidentally, last week I also met an employee on the GoCab bike (see photo). I often experience positive things. People I know say it's super that this is possible. I also get understanding from traffic participants. They step aside or let me pass. That's nice.
 
On my Easy Rider 3 e tricycle I have several options. I have a stick holder for my crutches, a larger saddle, an adapted handlebar with mirrors and also pedal assistance. I currently have 1 battery and will soon get a 2nd battery. I am also very economical with my bike."
 
Geert van der Linden – Monster, the Netherlands
Bike: Easy Rider e tricycle