Customer experiences
Customer experience electric tricycle Easy Rider - Erna van Beek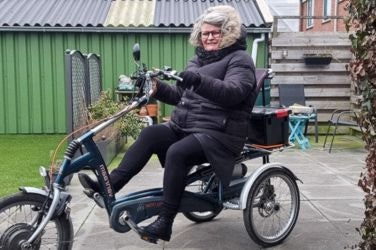 Erna van Beek has Traumatic Brain Injury (TBI), which causes her to have various limitations. For some time she used a mobility scooter, until she got the opportunity to use an Easy Rider electric tricycle. Read the interview with Erna here.
The first step to more freedom
"I'm Erna van Beek, 62 years old and live alone and independently. I have 3 daughters, 3 sons-in-law and 3 grandchildren. I have received non-congenital brain damage due to a serious illness. This has left me with many limitations. Yet I'm always busy with something: crocheting, diamond painting, audio books or I go out and about. I started with a mobility scooter, my 1st step to more freedom. Yet I missed moving around. A mobility scooter is a boring thing. 2 years ago I got the chance to try the Easy Rider electric tricycle from Van Raam, I went for it and I have not regretted it for a moment."
No longer dependent on others
"The Easy Rider is my aid and also my only means of transportation and sports equipment. I'm no longer dependent on others, what a change that is! I can move around independently and maintain my network in the neighborhood. I try to participate in society and I'm in motion. Ideally, I would like a second battery, so I can move anywhere within the municipal boundaries. I like to cycle and, depending on the weather, make beautiful bike rides in the polder. That is real enjoyment."
I love the Easy Rider! I'm not afraid to fall anymore.
Erna van Beek
Purchase, delivery and findings
"I have owned the Easy Rider for 2 years now and purchased the bike through the Dutch Social Support Act (Wmo). The electric tricycle was delivered within a week and the service was good. In terms of additional options, I have a mirror and a double stick holder. I love the Easy Rider!I'm not afraid to fall anymore. The pedal support is also wonderful. The electric tricycle is comfortable and provides independence. It varies how far I cycle with it. Sometimes I cycle daily and sometimes I don't cycle for a while. That depends on how I feel and what the weather is like. On good days I cycle easily 200 km per week."
Memorable moments
"What I like is that I get a lot of respect from fellow road users. Road users stop and let me go ahead. I also came across a cyclist on a narrow path once. I always stop to let the cyclist pass safely. She stayed next to me, looked at the bike and said: "I want a bike like that too!"

I am very happy with the Easy Rider electric tricycle. It offers me great independence and lots of fun. I give the Easy Rider on a scale of 1 to 10 a 9.5!"

Erna van Beek - Baflo, the Netherlands
Bike: Easy Rider electric tricycle