Customer experiences
Customer experience Fun2Go duo bike – Taxi Steen Ommen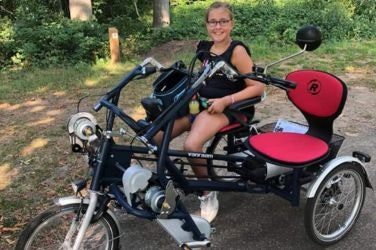 A few months ago Taxi Steen Ommen bought a Fun2Go duo bike to rent out to people who would like to go for a ride. Diana Begeman works at Taxi Steen Ommen and tells more about the purchase of the electric duo bike, the extra options and the experiences of renters.
Specifications
(RAL 5011) Steel blue matt
Pedal assist, Mirror, Extra battery pack Cube, Rotatable seat, Hip belt, Armrest (foldable), Foot fixation
Configure your bike
Purchase Fun2Go duo bike
​"Taxi Steen Ommen is a transport company and family business. The transport activities include transport for companies and institutions, student transport and street cab transport. Ommen is quite a recreational municipality and until recently you could rent almost everything there, except a duo bike. We came into contact with Van Raam and we spoke with a technical advisor which was very nice and we had the opportunity to cycle aroud on the bike test track in Varsseveld. We received a warm welcome and spoke to the proud commercial director, Mr. Ruesink."
Rent electric duo bike Taxi Steen Ommen
"The rental of the Fun2Go duo bike is now a nice extra service. The bike is equipped with electric pedal assistance so renters can enjoy all the beauty that Ommen and surroundings have to offer, without too much effort. The duo bike with pedal assistance can be rented daily. If desired, we can supplement the rental of the bike with nice bike routes, a lunch on the way or a well stocked picnic basket."
Renters are very satisfied with the duo bike!
Taxi Steen Ommen
Fun2Go duo bike with extra options
"Our Fun2Go has two batteries, a mirror, a rotatable seat, a hip belt, armrests, foot fixation and soon also a stick holder. We use the Fun2Go duo bike for rent and try to extend the bike in such a way that everyone can ride it in a nice and safe way."

View other options for Van Raam special need bikes in the overview on the options page.
Become a Van Raam dealer yourself
"Taxi Steen Ommen has become a dealer at Van Raam, so we didn't have to order the duo bike from another dealer. We had to wait for about 6 weeks and the delivery went well. The agreements were clear and fulfilled."
Experiences of hirers
"At Taxi Steen Ommen we have a folder with bike routes and a logbook where hirers can share experiences with the electric duo bike. Very nice to read! I've read a funny story about a woman with her grandmother, they forgot to turn the battery back on after a stop. Or people who cycled much further than initially intended. Our hirers tell us they are very satisfied with the Fun2Go!"

Diana Begeman – Taxi Steen Ommen (Netherlands)
Model: Fun2Go duo bike