Options
Options of third parties
It is unfortunately not possible to buy a trailer, roof rack or shed for your Van Raam bicycle directly from van Raam. There are several suppliers that specialise in supplying adapted trailers, roof racks or storage places for your tricycle, wheelchair bike, transport bike, side-by-side tandem, tandem or scooter bike.  

Thanks to the adapted trailers it is possible to transport your customized bike. In this way you can take your own individual bicycle on the road. With some providers it is possible to rent or buy the adapted trailer.

Note: The following links about roof racks en trailers are written in Dutch and German. If you know or are an (English) specialist in making roof racks, trailers, etc. for special needs bikes let us know.
Video detach Easy Rider tricycle seat and transport
Roof racks and trailers for special needs bikes
2. Trailers at Recreaties
Recreaties produces trailers for specials needs bicycles, for example tricycles, duo bikes, tandems, scooter bikes and wheelchair bikes. Recreaties works together with sales points in different regions, which are responsible for the sale of the trailers. It is possible to buy trailers here, but also to rent them. Check the website www.recreaties.nl for the possibilities and points of sale.
5. Bike carrier for tricycle
At Pater Trailer Service (PAS) you can find a trailer for a tricycle. They make the trailers one by one and there is a possibility for several bicycles on one trailer. For example, a combination of two tricycles, or one tricycle with one ordinary bicycle or a tandem bicycle with two ordinary bicycles.
6. Bike carrier for tricycle
Through our dealer ViaErwin it is possible to rent or buy a bike carrier. This bike carrier is suitable for a mobility scooter or a tricycle.
7. German dealers
Van Raam works with several German dealers where you can buy roof racks, carriers and trailers. Check their websites for more information.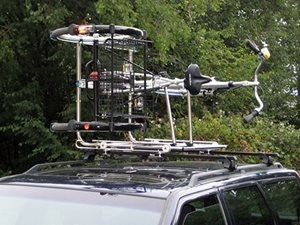 8. Storage for your Van Raam bicycle
Our dealer Care4More sells various storage spaces especially for tricycles, tandems, wheelchair bikes and scooter bikes.

These sheds can be placed anywhere and offer a solution for people with little storage space. At the shed you get two remote controls as standard, with which the door opens or closes automatically. It is also possible to equip the shed with electricity, a tiled floor or in a RAL colour of your choice.
More information
Curious to find out more about a trailer for adapted bicycles? In the article 'Trailer to transport a special needs bike' you can read more about the weight on the tow bar and how to store the trailer.