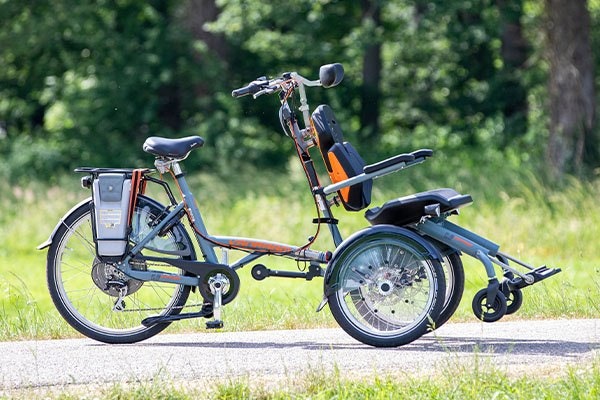 News
Video Wheelchair bike OPair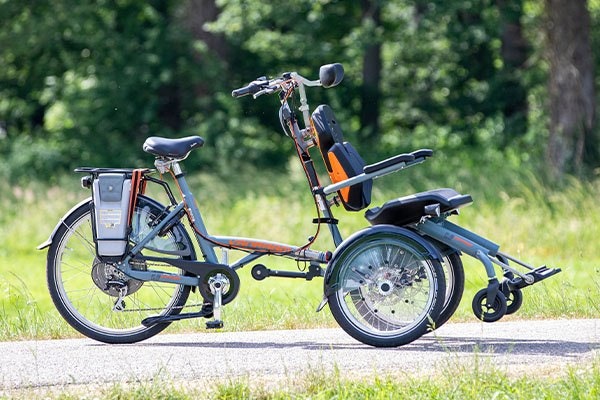 Since April 2017, you can order the completely renewed Opair wheelchair bike from Van Raam at our dealers.
How does the wheelchair bike work?
In the video below we will show you how this special (electric) bike, with which you can cycle with children of adults who cannot cycle on their own due to disability, works.  

In the small movie you will see for example the free entry for the passenger, the 4-points belt*, foot fixation*, parking brake, electric pedal support* with starting aid and possibility to cycle backwards, and a split frame (fast and simple disconnection with improved connector).  
Wheelchair bike for adults and childeren
In the end of the video you see the wheelchair bike with sitting width adjustable for a child*, which makes the bicycle not only available for adults, but also for children.
Want to make a test ride?
Do you want to try the Opair wheelchair bike? You can make an appointment for visiting our showroom at the Guldenweg 23 in Varsseveld (the Netherlands) by telephone (+31 315 257 370)
Sitting in your own wheelchair and cycling together?
When you don't have the option to stand and to sit in the Opair wheelchair bike? Take a look on the page of the Velo Plus wheelchair transport bike. This bike has a flat plateau in the front where you can place the wheelchair.

 * = optional
Do you have any questions?
We are happy to assist you! Please check our contact page or contact us directly using the options below.