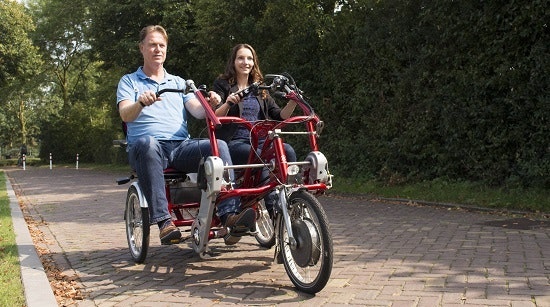 News
Video electric side by side tandem bike Fun2Go
Bikes

\ Side by side tandem bikes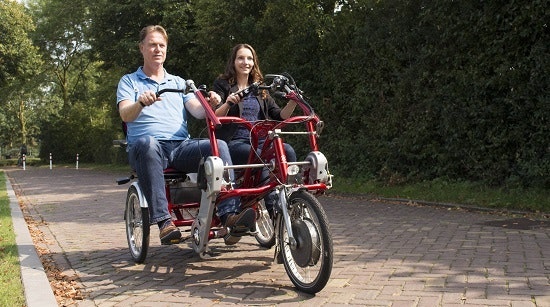 In the video below, we will show you how the Van Raam electric side by side tandem bike works. The Fun2Go 1 bicycle is a three-wheel tandem/double rider cycle with a driver and passenger sitting next to each other. This adaptive bike makes it possible to cycle for people with disabilities.
Renewed Fun2Go
The text in this article is about the Fun2Go 1 side-by-side tandem. This bike has been renewed in May 2023. View the product page of the renewed Fun2Go side-by-side tandem by clicking on the button below.
Instructional video Fun2Go 1 twin tandem cycle
In the following instructional video of the Fun2Go 1 will see the following features:
No entry, easy to take place.

Comfortable (rotating) seats with armrests and hip belt.

Powerful electric pedal support (motor) with 3 support levels and starting aid/launch control.

One-person steers, both can pedal.

Small turning radius able to turn around its own axis.

Reverse cycling possible.

Very maneuverable.

Easy to get on and of.

Footplate retractable (passenger)

Switchable freewheel or 8-speed freewheel on both sides: 
Switchable freewheel position 1: pedals passenger moves free

Switchable freewheel position 2: Passenger can decide if he/she cycles

Switchable freewheel position 3: Passenger has to cycle
Learn more about Van Raam's (electric) Fun2Go 1 tandem? Check out all the information about this special side-by-side tandem on the Fun2Go 1 page.
Fun2Go 1 side by side tandem: custom made
Like all other Van Raam bikes, you can customize the Fun2Go 1 side by side tandem. You can choose your own color, many different options and accessories or specialized wishes. All possibilities are listed on the Fun2Go price list, which can be found on the Fun2Go 1 page. You can also configure your own Van Raam bike with the configuration module.
Test drive a Van Raam bicycle
Are you interested in Fun2Go 1 side-by-side tandem or one of our other adaptive bikes and do you want to make test ride? Please call (+31 (0) 315-257 370) to make an appointment in our showroom in Varsseveld (Netherlands) and one of our advisers will be happy to assist you. you can also contact one of our Van Raam dealers in Europe or the USA.
Fun2Go side by side tandem + FunTrain trailer
There is also a side by side tandem trailer, the FunTrain. By linking this trailer behind a Fun2Go (with tow bar) there is a cycling train for 4 persons. Read more about this on the FunTrain trailer page or view the FunTrain instructional video below.
Do you have any questions?
We are happy to assist you! Please check our contact page or contact us directly using the options below.