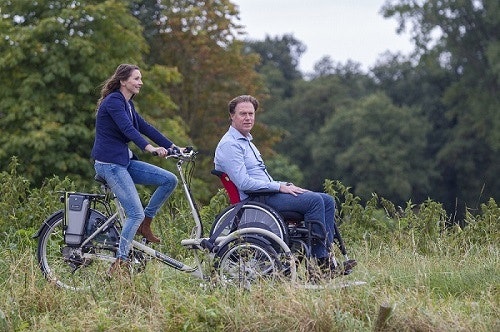 News
VeloPlus wheelchair bike video, bike for wheelchair user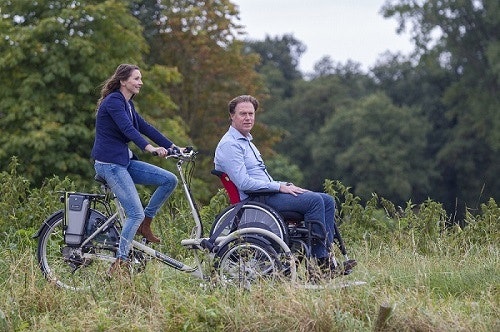 Van Raam has made a VeloPlus wheelchair bike video. This bike is suitable for disabled people or people who can't participate in traffic independently. The video shows how someone in a wheelchair can easily be driven on the tiltable platform so that it is possible to cycle together.
VeloPlus wheelchair bike
The VeloPlus wheelchair bike ensures that disabled people can go out cycling in the open air with an attendant in their own wheelchair. The bike can be used for almost every manually operated wheelchairs. The video below shows how the VeloPlus wheelchair bike works and how it is used.

Almost every wheelchair up to 78 cm wide, can be transported on this stable transport bike for wheelchairs. The wheelchair user can remain seated in his / her own wheelchair and can be easily put on the bicycle with the help of the tilting platform. Once the wheelchair user is on the platform, the wheelchair can be locked securely with the integrated wheelchair lock. Due to the special construction and the disc brakes this wheelchair bike is easy to steer, stable and a small turning circle can be made by the co-steering wheels.
 
An optional function for the VeloPlus wheelchair bike is an electric motor. With the electric motor you can cycle with pedal assistance. If this option is chosen, the bicycle can also be used for long distances and in hilly areas.
VeloPlus wheelchair bike video
Watch the video below to see how the VeloPlus wheelchair bike works.
Van Raam videos
In addition to the video of the VeloPlus, Van Raam has more videos to watch. At our YouTube video page, you can find more videos about our bikes and about our bike factory.
User experiences of the VeloPlus wheelchair bike
Are you curious about the experiences of other people about the VeloPlus wheelchair bike after reading this article? Click on the button below to go to all the user experiences about the VeloPlus bike.
Do you have any questions?
We are happy to assist you! Please check our contact page or contact us directly using the options below.