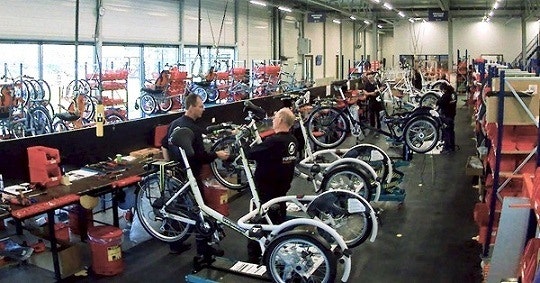 News
Van Raam VeloPlus wheelchair bike assembly line - Video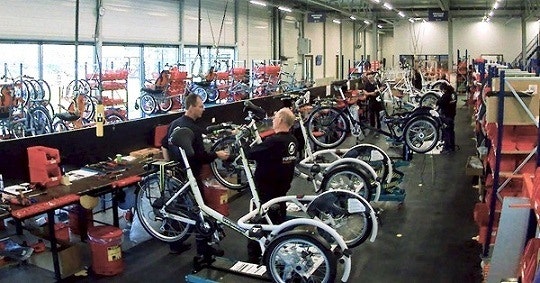 Van Raam manufactures and assembles almost all of its adapted bicycles itself. The VeloPlus wheelchair bike is assembled in an assembly line. Read more about the VeloPlus line and watch the video in this article.
Video: VeloPlus assembly line at Van Raam
Watch the VeloPlus assembly line in the video below.

Tip: turn on subtitles for accompanying text.
Van Raam VeloPlus wheelchair bike assembly line
In the video above, assembly worker Erik ter Heurne tells about the assembly line of the VeloPlus wheelchair bike. The bicycle is assembled step by step by different assemblers. The VeloPlus assembly line is divided into eight workstations. At each workstation there is a Van Raam assembler who is responsible for one part of the assembly process. After the final step, the bicycle is ready. Every assembler from the VeloPlus assembly line can be assigned to every workstation.

The assembly of the VeloPlus consists of the following actions, among others:
Construction of rear frame, front frame and handlebar assembly

Alignment of front wheels and handlebars

Mounting of crank and front mudguards

Assembly of brake system and steering damper

Luggage carrier and rear wheel mounting

Chain guard installation

Mounting of ramp

Mounting the cover on the ramp
After the final assembly, the VeloPlus is ready and the wheelchair bike goes to the final inspection. Are you curious about the final inspection of a Van Raam bicycle? Then read the article with video 'Video quality inspection of a Van Raam bicycle'.
Assembly department at Van Raam
Most Van Raam adapted bicycles are assembled in the assembly hall at Van Raam. In the assembly department, more than 50 employees work on different Van Raam bicycle models. There are several assembly areas, such as line assembly and pre/final assembly. Read more about these departments and watch the video in the article '360 degree video tour in the assembly of Van Raam'.
Van Raam VeloPlus wheelchair bike
The VeloPlus is a wheelchair bike from Van Raam which can transport people in their own wheelchair. The bike has a tiltable platform where a wheelchair can easily be pushed on without much effort. The wheelchair is safely secured on the wheelchair bike by means of a wheelchair lock and a belt. The low center of gravity and the widely placed front wheels ensure a stable bike.
Would you like more information?
Do you still have questions about our VeloPlus assembly line, or would you like to know something else? Just ask us and we will be happy to answer your question.
Do you have any questions?
We are happy to assist you! Please check our contact page or contact us directly using the options below.