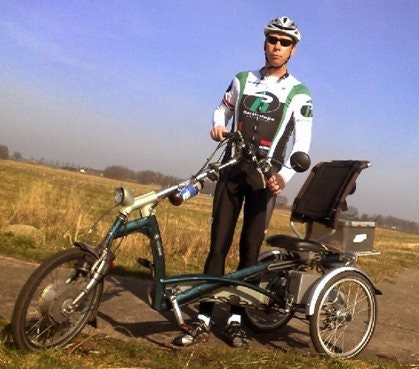 News
Actions organized by Easy Rider, tricycle for adults, riders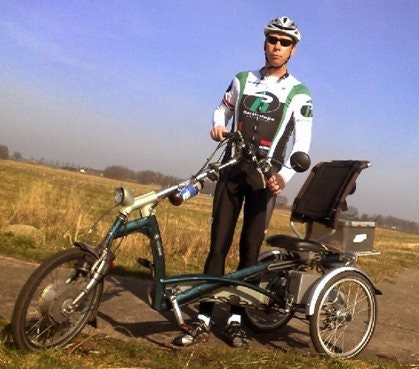 Last years, several 'super users' of the Easy Rider, one of Van Raam's adult tricycles, have made long bike rides.
2014: Diederik Wieringa 1000 km on Easy Rider for side-by-side tandem Raisin Hope
Diederik Wieringa bikes 1000 km a month for Raisin Hope on his Easy Rider from Van Raam. Diederik was struck by a cerebral infarction in 2009, but has taken his physique to a much higher level because of his perseverance and daily exercise on his Easy Rider. Diederik keeps a blog (Dutch) about all matters concerning a tricycle for adults and his experience with the Easy Rider. He will use the money he raises during this ride for the purchase of Van Raam's Fun2Go side-by-side tandem to help people with non- congenital brain damage convalesce.
2014: Andreas Fuck rides 2200 km on Easy Rider to promote positive effects of bicycling on a tricycle 
Andreas Fuck from Germany bikes 2200 km through Germany and the Netherlands to raise attention for the positive effects bicycling on a tricycle can have on adults. Andreas and his physiotherapist Ulrich Martens saw Andreas' endurance improve visibly since he's been riding the Easy Rider. Andreas is very positive about this bicycle and wants to show others what effect bicycling on this tricycle has on ones physical condition. Moreover, he wants organizations and the German government to recognize that they should stimulate the possibility of purchasing such a bicycle with financial support. Another goal of his is to discuss regulations concerning places to bike, bringing special needs bicycles on public transport and compensations for this, among other things, at the Reichstag in Berlin. Andreas Fuck keeps a blog about his experiences. 
2009: 70year old Gunda Krauss 1200 on Easy Rider
Both Andreas and Diederik were inspired by Gunda Krauss who, at the age of 70, rode 1200 kilometers through Germany on her Easy Rider. 
Do you have any questions?
We are happy to assist you! Please check our contact page or contact us directly using the options below.