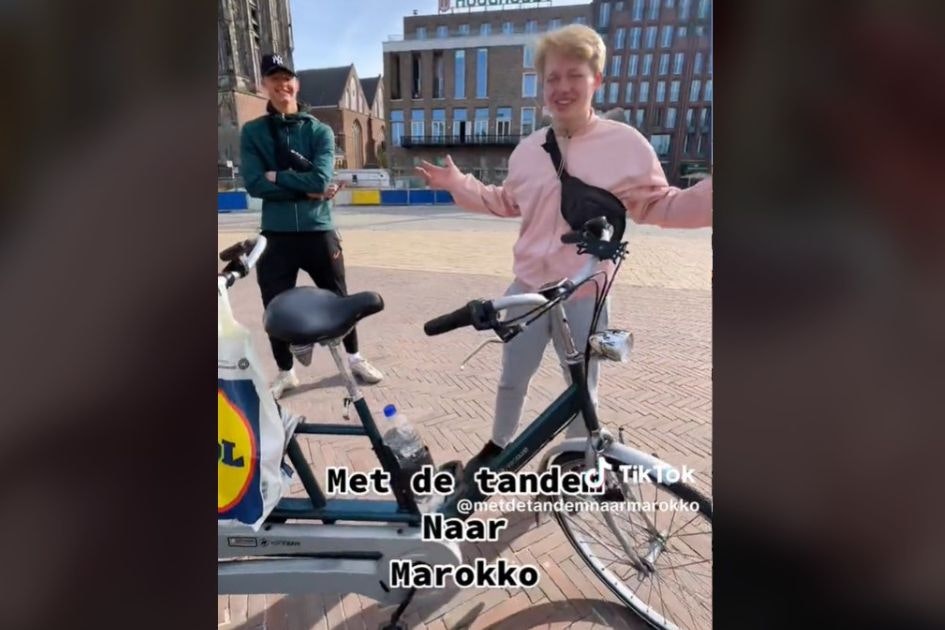 News
Herre and Jesper cycling on an Van Raam tandem to Morocco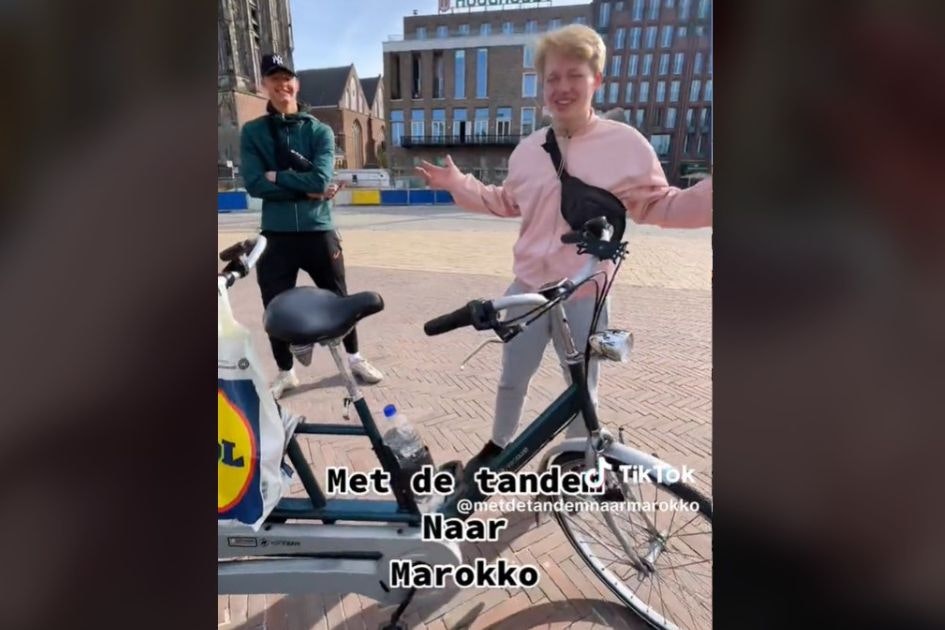 They are incredibly popular on TikTok: friends Herre and Jesper. In daily updates, they share their adventure of cycling from Groningen to Morocco (Netherlands) on a Van Raam tandem.
On the tandem to Morocco
The idea of cycling to Morocco on a tandem came from an old song they heard by Armand, "Op de tandem naar Marokko" (On the tandem to Morocco). The two friends found it amusing to actually cycle to Morocco. Their bike trip starts in May 2023, and they share it through videos on TikTok. The daily updates are viewed by hundreds of thousands of people.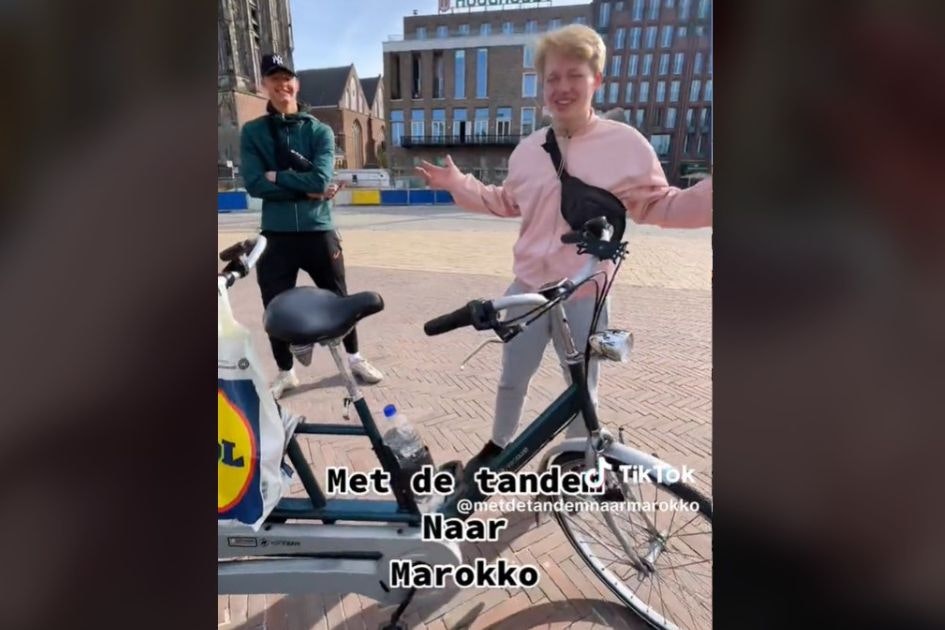 Accommodation and food
The boys have a tent with them for overnight stays, but they prefer to sleep at people's homes along the way. Due to a limited budget, they rely mostly on energy bars and peanut butter for sustenance. Their humorous travel diary on TikTok has captured the hearts of many people. In the comments on their videos, suggestions are made for the boys to raise money for accommodations and food. Herre and Jesper express that they want to give it a try on their own first, but may consider creating a Tikkie link in the future for people to donate.
Calling Van Raam for assistance
The friends embarked on their journey unprepared. Along their route through Belgium, they encounter obstacles such as fences, and the boys also struggle with fixing punctured tires. After failing to repair the flat tire, they call Van Raam for advice. Van Raam suggests using a wheel from a mountain bike as an alternative. After changing the tire, they continue their journey towards Morocco.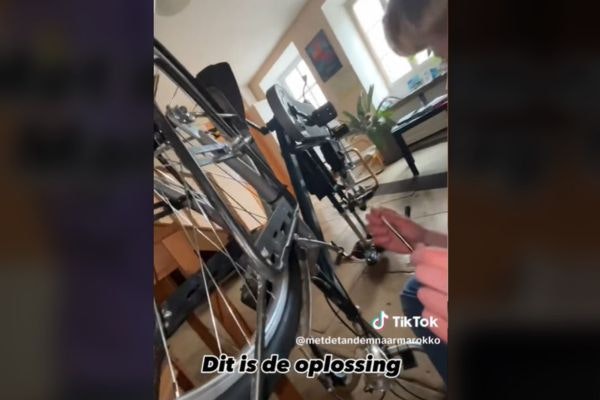 Van Raam Twinny tandem
The bike trip to Morocco is done on an old Van Raam Twinny tandem. This tandem with a low step-through design provides more space between both seats than the average tandem. One person steers and brakes, while both can pedal. The main rider can optionally adjust the passenger's pedaling mode. With the Twinny, you have a high seating position, providing both cyclists with a good overview.
Van Raam bikes for long cycling trips
The adapted bikes from Van Raam are frequently used for long cycling trips. Read below the experiences of other Van Raam users.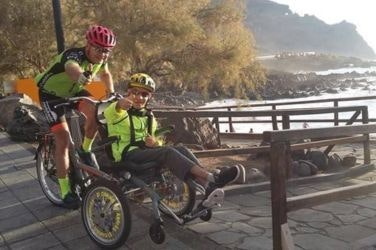 User experience wheelchair bike OPair - Richard Hernández
Cycling eight hundred kilometers with a wheelchair bike without pedal support. That sounds like a challenge. A challenge that Richard Hernández accepted together with his disabled son Andrés. Together they cycled the pilgrimage route "Camino de Santiago". For centuries this route has been used by believers to pray at Santiago de Compostela, in the North-West of Spain, at the grave of Apostle James. Usually this route is taken by foot, but Richard and his son Andrés decided to make the trip from Roncesvalles with the OPair wheelchair bike and they called the route symbolic: "El Camino de Andrés". Read their story below.
Read this customer experience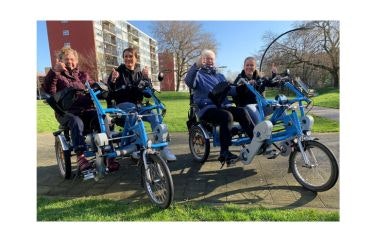 Customer experience Fun2Go side-by-side tandem – Fietsmaatjes Schiedam to Paris
In May 2022, two sportive ladies, Romy Snijders and Whitney Schell, cycled from Schiedam to Paris on the Fun2Go side-by-side tandem. With this cycling trip, they wanted to generate more awareness for Fietsmaatjes Schiedam and the importance of movement and social contact for the elderly. In this customer experience you can read all about the Tour Paris including updates and videos.
Read this customer experience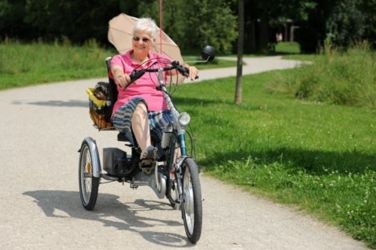 User experience tricycle Easy Rider - Gunda Krauss
The life of the German Gunda Krauss has changed completely thanks to the electric tricycle Easy Rider. After Gunda had a hip replacement, she could no longer cycle on a 'regular' bike with two wheels. Her world become smaller by the day and at one point she even lost her zest for life. Her dream was to make a long bike ride once. It was a dream of Gunda to make a bike tour and this dream came true when she heard about the Easy Rider tricycle. This electric tricycle has changed the life of Gunda completely. Gunda had thought about giving up, but she is very happy that she kept going on. "Someone convinced me that you should not stop if you have a goal in mind. He was right, I know now, because there is always a way," says Gunda Krauss.
Read this customer experience
;
Do you have any questions?
We are happy to assist you! Please check our contact page or contact us directly using the options below.