Customer experiences
User experience wheelchair bike OPair - Richard Hernández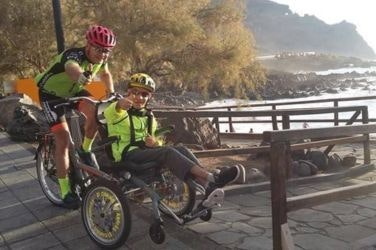 Cycling eight hundred kilometers with a wheelchair bike without pedal support. That sounds like a challenge. A challenge that Richard Hernández accepted together with his disabled son Andrés. Together they cycled the pilgrimage route "Camino de Santiago". For centuries this route has been used by believers to pray at Santiago de Compostela, in the North-West of Spain, at the grave of Apostle James. Usually this route is taken by foot, but Richard and his son Andrés decided to make the trip from Roncesvalles with the OPair wheelchair bike and they called the route symbolic: "El Camino de Andrés". Read their story below.
Specifications
(RAL 7031) Blue grey matt
Spoke protectors, Divisible frame, 5-point belt
Configure your bike
Dare to dream
The idea of the bike tour all started with the motto: "If you can dream it, you can do it". One day we wondered why our son could not really experience the Camino de Santiago. When we started thinking about solutions how Andrés could see the Camino de Santiago, we became more and more enthusiastic. Our enthusiasm was infectious and more and more people from our area thought it was a great idea and were enthusiastic to let Andrés experience Camino de Santiago.
Nothing is impossible
Because Andrés has a handicap and is not mobile enough to walk the Camino de Santiago, we decided to look for another option. This way, we came to Van Raam and decided to purchase an OPair wheelchair bike.
The idea of the bike tour all started with the motto: "If you can dream it, you can do it".
Richard Hernández
We have purchased the wheelchair bike without pedal support, so beforehand we have trained a lot to be able to successfully complete the trip by bicycle. We have also adapted the OPair wheelchair bike in a way that the bike really became Andrés his bike. For example, we placed spoke guards on the front wheels of the OPair with Andrés his name.
The wheelchairbike opens new possibilities
We are very happy with this bike. Thanks to the wheelchair bike we have managed to open a lot of new possibilities for Andrés, who could never have been achieved without the wheelchair bike. After the bike ride to Santiago we decided to make more of these kinds of memorable trips. We discover new routes for Andrés every day. Advice and suggestions for possible bike tours are more than welcome.
Cycling without pedal support
We have put another hub on the bike during the purchase of the wheelchair bike. This is the Nuvinci hub. The advantage of this hub is that you can switch smoothly to another gear, even while pedaling. If you regularly cycle in a hilly landscape (such as the Camino de Santiago route), it is nice to continue pedaling, instead of keeping your pedals still. Although it was difficult on the steep slope. However, we have achieved our goal and were welcomed at the end by no less than 8400 people. We look back on an unforgettable experience, where everything revolved around Andrés. After all, his well-being is the most important for us.
Follow "El Camino de Andrés" on Facebook
Richard has also kept track of all the adventures and moments of the 800-kilometer bike ride on a special Facebook page. On the page "EL CAMINO DE ANDRES" you can find photos, videos, as well as summaries of the 14 phases in which they have completed the pilgrim route.

Note: Since Richard and Andrés are Spanish, the Facebook page is also in Spanish. If your Spanish is not so "muy bien", the photos are still worth it!