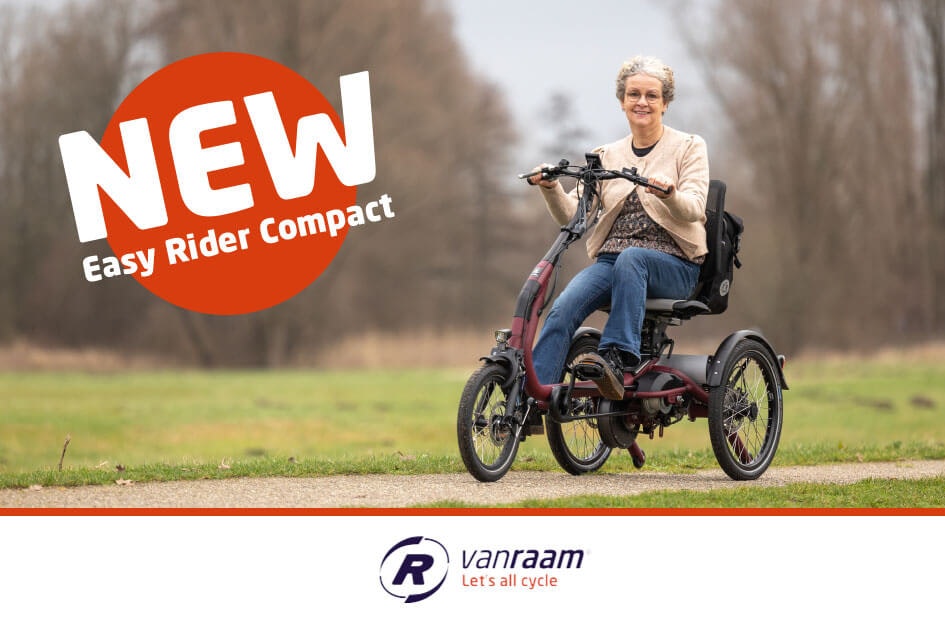 News
Easy Rider Compact new Van Raam tricycle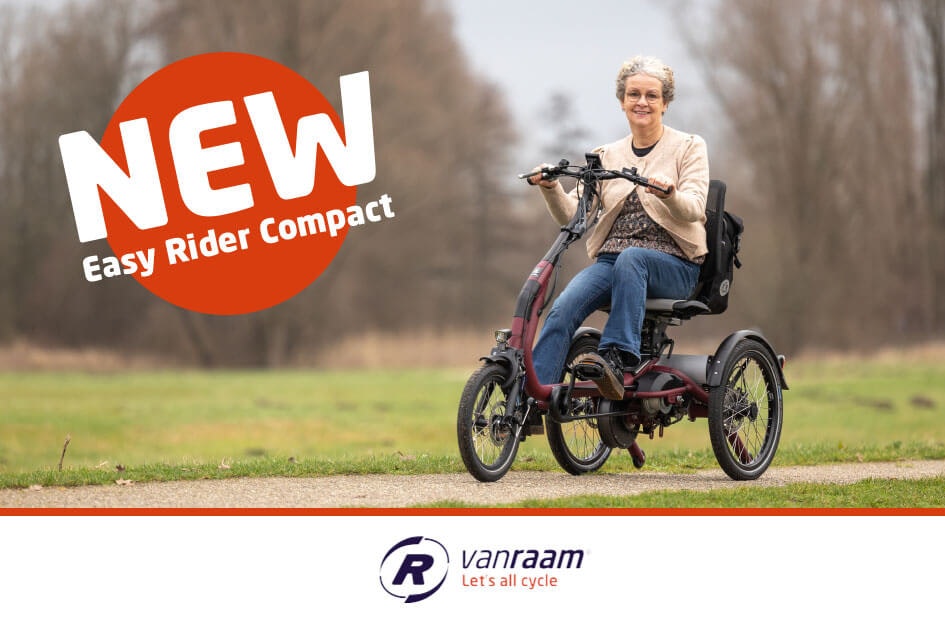 As of April 2023, Van Raam has a new tricycle in its range: the Easy Rider Compact. Find out all about the new Van Raam Easy Rider Compact in this article.
Van Raam's new compact tricycle
As the name of the Easy Rider Compact suggests, this is a compact seated tricycle from Van Raam. This is reflected in both the bike's dimensions and design. From April 2023, this bike will also be in the Van Raam range.
Similar to the Easy Rider tricycle
The Easy Rider Compact has similar riding characteristics to the Easy Rider adult tricycle and is specifically designed for small adults and large children. However, the big difference is that the Easy Rider Compact is much more compact than the Easy Rider. This makes the bike very manoeuvrable and easier to store.
The bike is suitable for children and adults with an inner leg length of about 63 cm to 81 cm. This corresponds to a body height of about 1.40 to 1.70 metres.
Get to know the Easy Rider Compact
Watch the product video and photos of the Easy Rider Compact below to get to know this sit tricycle.
The Easy Rider Compact is a compact tricycle with similar riding characteristics to the Easy Rider.
Advantages and characteristics Easy Rider Compact
The Easy Rider Compact tricycle has several advantages. These include:
Very manoeuvrable due to small turning circle

Cycles easier than traditional tricycle

Less strain on back and neck and shoulders and wrists
Besides its advantages, this seated tricycle also has several features that the bike comes with as standard:
Luggage frame suitable for single-sided panniers

Suspension seat for optimum riding comfort

Comfortable depth-adjustable seat

Stable and low seating position ensures feeling safe
The Easy Rider Compact comes standard in the colour wine red matt (RAL 3005), but is also optionally available in olive grey matt (RAL 7002) or traffic grey B matt (RAL 7043). Do you prefer a different colour? It is possible! You can have your Van Raam bike powder coated in almost any colour of your choice.
Easy Rider Compact with Van Raam pedal support?
Has your Easy Rider Compact been ordered as an electric bike? Then you will receive your tricycle with Van Raam pedal support. Thereby, you can choose between a small or large Van Raam engine.
In addition, you automatically use the new Silent smart display to control the pedal support. Read more about this on the Easy Rider Compact product page.
Various options for the Easy Rider Compact
As for all other Van Raam bicycles, there are various options available for the Easy Rider Compact tricycle. With the various options such as a mirror, stick holder or pedal adjustment, the bike can be customised to your needs.
Test ride the Easy Rider Compact
Would you like to test the Easy Rider Compact for yourself? That is not a problem! You can take a free test ride at Van Raam and try out the bike on the test track. You will be helped by one of our advisors and can discover whether the Easy Rider Compact or another Van Raam bike suits you.
Van Raam Easy Rider family expands further
With the Easy Rider Compact, the Easy Rider family in the Van Raam range has been expanded again. Besides the compact tricycle, the range also includes a larger and smaller tricycle and a recumbent tricycle with under-seat steering for both large and small people. Meet the family below:
Do you have any questions?
We are happy to assist you! Please check our contact page or contact us directly using the options below.