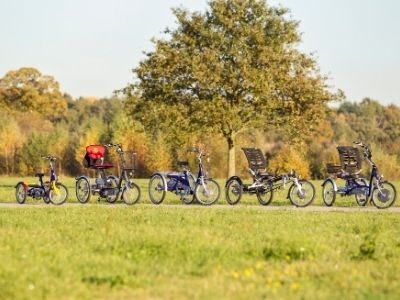 News
Disabled tricycle from Van Raam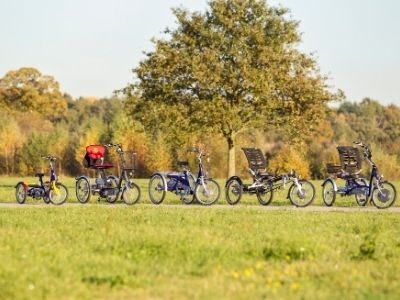 Van Raam is a manufacturer of adapted bicycles that are especially suitable for people with a disability or for people who want more safety. A Van Raam disabled tricycle therefore offers you many advantages and mobility. In this article you can read more about the Van Raam disabled tricycle.
Disability trike advantages
Van Raam has been producing bicycles for almost 110 years. Each bicycle and disability trikeis individually produced according to your wishes and needs, so you have more mobility and also safety and stability when cycling. Our goal is to offer sustainable and contemporary mobility to as many people as possible. Would you like to know more about Van Raam? Read more on the page "About us".
All Van Raam tricycles offer you many general advantages and individual benefits. In addition to the added benefit of being mobile again, the Van Raam disability trikes offer the following advantages:
Stopping without getting off

You do not have to keep the balance yourself

Ensures stability and safety when cycling 
Disabled tricycle assortment
Van Raam has more than one disability trike people in its assortment. These include: 
Comfortable disabled tricycle for adultsfor disabled people

Disabled tricycles with low entry

Tricycles with two wheels in front

Scooter tricycle for disabled people

Comfortable disabled tricycle for adults

Traditional tricycles
Every disability trike that falls into one of these categories has its own characteristics and features. Each bicycle is individual and is produced according to your wishes and needs. See below our different tricycles for people with disabilities:
Disabled electric tricycle
Each of the above mentioned disabled tricycles mentioned in the article can be optionally equipped as disabled electric tricycle with electric pedal support.
An electric tricycle for disabled people from Van Raam is equipped with Van Raam's own system, the Silent System. This award-winning system is developed for Van Raam itself. All handicapped tricycles with pedal assistance are delivered as Smart E-Bikes.

All extras and advantages are possible with the Van Raam E-Bike App. So you can not only see your biked routes, but also where your bike is parked - this is especially good against theft or if you are looking for your bike in a parking lot. For more information about pedal support, please see the pedal support page.
See more options?
Do you want to know which options are suitable for which bike? Go to the product page and see the price list. Another option is to configure the desired bike. Here you will also find all options that fit the bike. And you can configure your dream bike step by step.
Tricycle for disabled children
Are you looking for a tricycle for a handicapped child and would like to have different possibilities to be mobile with your child again? Van Raam also offers various tricycles for children that are tailored to your needs. Read more on the page "Tricycles for children".
Do you have any questions?
We are happy to assist you! Please check our contact page or contact us directly using the options below.