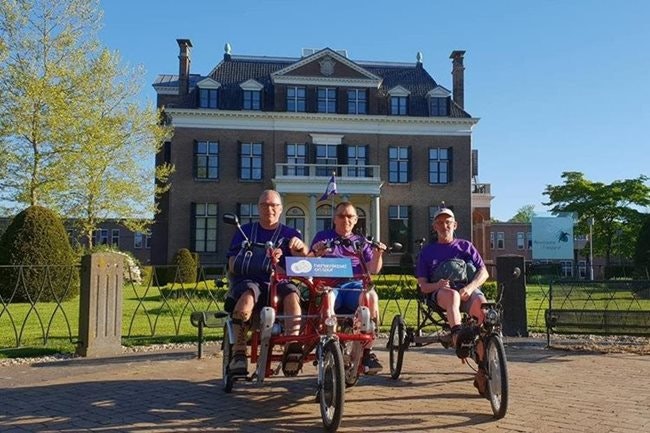 News
Cycling through the Netherlands with a brain injury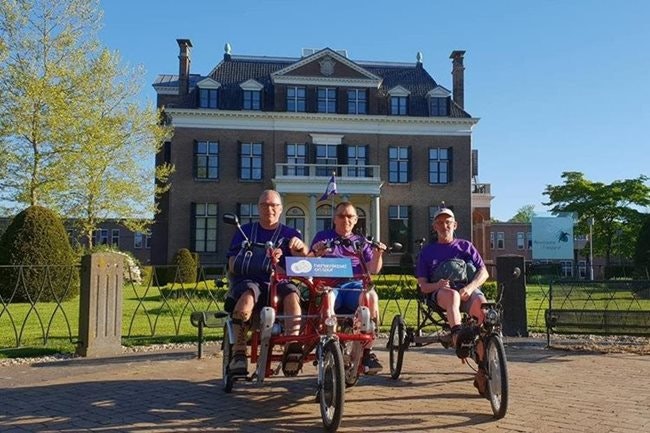 Hersenletsel on Tour, a working group of patient association Hersenletsel.nl, organises an annual bicycle tour to draw attention to TBI (Traumatic Brain Injury). In 2021 and 2022 Hersenletsel on Tour could not take place due to corona.
Hersenletsel On Tour
Every year, there are about 85,000 new cases of traumatic brain injury and over 40,000 new strokes. More than 500,000 people in the Netherlands live with the consequences. In order to draw attention to Non-congenital Brain Injury, the Hersenletsel on Tour initiative was picked up again in 2016. With this bicycle tour, the goal is to permanently draw attention to all forms of TBI and the consequences for those affected and their loved ones. In addition, exercise is very important for people with TBI! Read in the article 'Cycling with a brain disorder' what possibilities there are to stay mobile with a brain disease.
Hersenletsel on Tour has already had 4 successful editions. During each edition, participants cycle in different provinces in the Netherlands. In 2019, the participants of Hersenletsel on Tour cycled through part of Noord-Brabant, Zeeland and Zuid-Holland.
Participate in Hersenletsel on Tour
Hersenletsel on Tour is cycled with 25 weekly cyclists, some of whom ride the entire tour on adapted recumbent and duo bikes. In addition, every day there are a number of changing "guest" cyclists who can ride a stage. Because it can quickly become too crowded for people with TBI, for example due to sensitivity to stimuli, the group of participants is not too large.

During the bicycle tour, a number of duo bikes with pedal assistance will be used, allowing less mobile people to cycle along as well. Among these duo bikes is also the Fun2Go of Van Raam. In addition, Van Raam will also make a FunTrain available during Hersenletsel on Tour. With the FunTrain it is possible to cycle with four people at the same time, of which one person is the driver.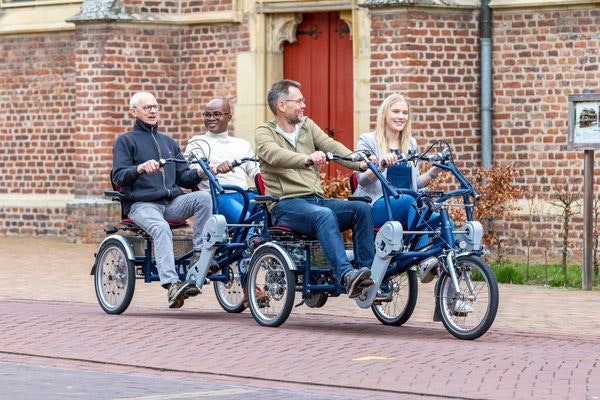 Photo report Hersenletsel on Tour 2018
The start of Hersenletsel on Tour 2018 was May 3 at the WZA in Assen, the Netherlands. Wednesday morning around 10 o'clock the bicycle tour started there. The mayor of Assen, Marco Out, himself a fanatic cyclist, warmly welcomed the participants and wished them safe and beautiful kilometres. Out himself cycled all the way to Anreep.
The Mayor of Assen starts the bicycle tour in Assen. (Photo: Asser Courant, Ineke Heijting)

The Mayor of Assen looks at the different adapted bicycles. (Photo: Asser Courant, Ineke Heijting)

The bicycles are ready for the bicycle tour. (Photo: Asser Courant, Ineke Heijting)

Everyone gets on their bikes to start Hersenletsel on Tour. (Photo: Asser Courant, Ineke Heijting)

The bicycle tour has started! (Photo: Asser Courant, Ineke Heijting)

The first metres are made. (Photo: Asser Courant, Ineke Heijting)

From Beesterzwaag to UMCG Centre for Rehabilitation Beatrixoord in Haren on day 5 (photo: Hersenletsel on Tour).
With TBI on a tricycle
Diederik Wierenga suffered a stroke in May 2009. Since then his right side of the body is weaker than the left and his balance is permanently disturbed. In 2009 he got acquainted with the adapted Easy Rider tricycle of Van Raam in the rehabilitation centre.

Diederik cycled on his tricycle during Hersenletsel on Tour. He told RTV Drenthe: 'I am taking part for the first year. We cycle 50 kilometres a day, in total about 300 kilometres. Because of cycling I have really improved, I can even write again.'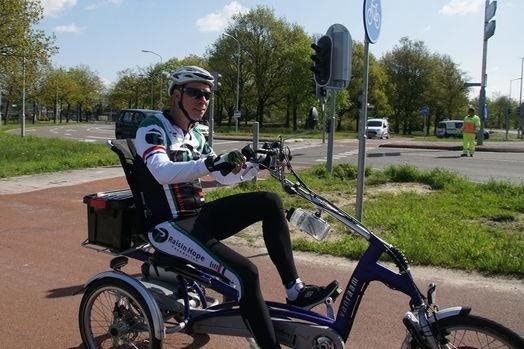 Read more about Diederik and his Easy Rider tricycle
Do you have any questions?
We are happy to assist you! Please check our contact page or contact us directly using the options below.