Customer experiences
User experience tricycle for adults Easy Rider - Diederik Wierenga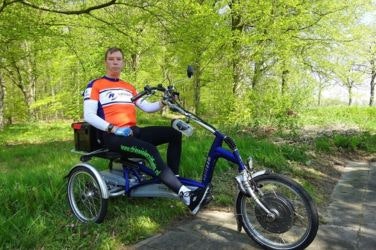 I have owned an Easy Rider tricycle since January 2010 and still enjoy riding it. To me this is the ideal bicycle for every occasion: buying groceries, going to work.
However, I use this bike most frequently for recreational purposes. I lost my balance after a cerebral infarction and the Easy Rider helps me sit up straight. The two rear wheels stabilize this tricycle, which provides me with a sense of security and allows me to enjoy a carefree ride. I can confirm that bicycling is very good for your health; I have seen my physical condition improve since I started riding this bicycle despite my acquired brain injury. I want to thank Van Raam for this amazing bicycle; it gives me freedom makes me independent.

Read more about Diederik and his Easy Rider tricycle
Update: November 2020
"I dare say of myself that I'm a sporty cyclist. Long distances of 170 km, but also on short distances the Easy Rider rides very well. Cycling up the Vamberg was tough, but the pedal support made it easier and after the climb cycling down again with speed.

In between, I can put my groceries easy on the back of the large luggage carrier with a pleasant height for me. And when I want to go to my girlfiend, 60 km is a piece of cake with the Easy Rider tricycle. When I bought the bike, I did think ahead and chose the biggest battery to enjoy the bike for many years. Unfortunately I need a tricycle, but the Easy Rider tricycle gives me a lot of fun!"

Click on the button below to read the customer experience of Diederik on the prototype of the Easy Rider 3.
Update February 2022: 5 years an Easy Rider tricycle for adults
Diederik has been cycling around on his blue Easy Rider for five years. It is not his first Easy Rider, he bought his first one back in 2010. At the time it was without pedal support, but nowadays he does have that and he cycles a lot. "I got better and better at cycling, so I started cycling more. 5000 km per year was no longer a problem for me." Diederik had the Easy Rider that he bought in 2016 completely adapted to his wishes. With a motor and battery, he can cycle the number of kilometers he wants.

Accessibility for everyone 
In his own municipality Diederik is committed to accessibility for everyone. He often sees that bicycle paths or garages are not adapted for, among other things, tricycles. For example, they are too narrow or inaccessible because of gates. This can often be remedied by making a small adjustment. "Making as much accessible as possible for everyone, because everyone in Noordenveld or who comes to our municipality should be able to participate!" 
 
Would you like to read more about Diederik's experiences with his blue Easy Rider tricycle for adults? Read about it in his blog! 
Diederik Wierenga - Norg (the Netherlands)
Model: Easy Rider