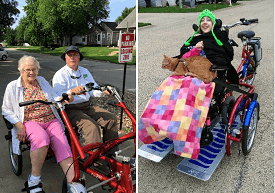 News
Container with wheelchair bikes, tandems and tricycles to America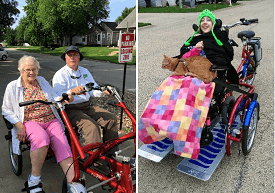 Earlier this year, the first container with special needs bikes prepared for America. This week, Sander, Jeffry and Edwin loaded a new container with Van Raam bicycles for America.
1st Van Raam bicycles to America
Van Raam is a manufacturer of custom bikes and delivers trought dealers in the Netherlands and Europe the bikes to end users. Since early 2016, America also added to the countries where you can buy a original Van Raam bicycle.

In the spring, the 1st container expertly packed by three employees of Van Raam and in Iowa at our first US dealer All Ability Cycles unpacked again. All bikes have arrived safely on the other side of the ocean and on the Facebook page of All Ability Cycles you can see a lot of nice pictures of Americans who enjoy the Van Raam bikes from the Netherlands. See the pictures below.

New adaptive Van Raam bikes ready for transport to America
This week, Sander, Jeffry and Edwin loaded a container with various Van Raam bikes, including the tandem Fun2Go, wheelchair bike OPair, wheelchair transport bike VeloPlus, tricycle Easy Rider and the Twinny tandem. 
Very professional and careful all bikes were loaded into the container. Wondering how  bikes are loaded?  Check out the video below of loading the bikes for transport to America.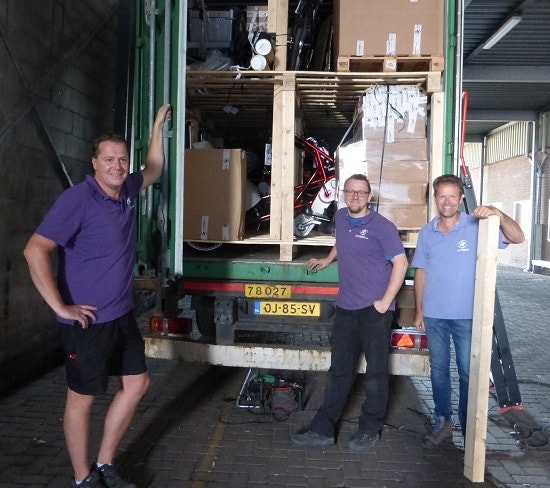 In this video, you can see how Van Raam packs special needs bicycles into a container for transportation to America. Van Raam manufactures not only special needs bicycles (tricycles, wheelchair bikes, duo bikes, and tandems) for the Dutch market but also for the international market.
Transport of the special needs bikes to USA
This week, the container picked up at Van Raam and brought to the port of Rotterdam. Soon the container will crossing the Atlantic on the way to America. From there the bikes go to our dealers in America(Bike-On in Rhode Island, Lancaster Recumbent  and All Ability Cycles) and Canada (Hamilton Trikes and Recumbents).
Buy Special needs bike
Would you buy a special needs bike and would you know in which countries you can find the Van Raam dealers? Please check the Van Raam dealer page.
Do you have any questions?
We are happy to assist you! Please check our contact page or contact us directly using the options below.