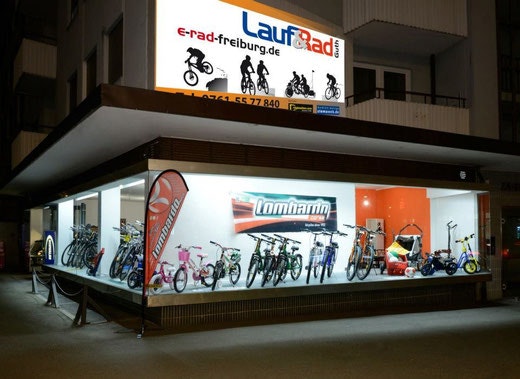 News
5 questions for Van Raam Premium Dealer Lauf und Rad Guth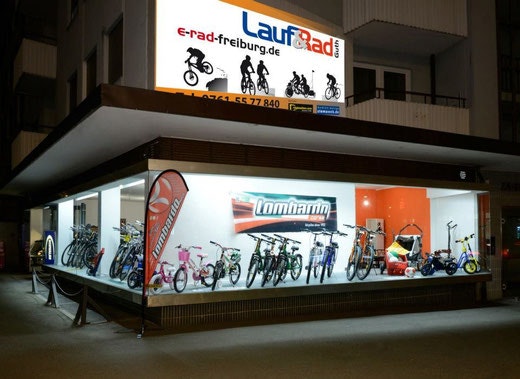 Simon Guth is an industrial expert at bicycle shop Lauf und Rad Guth in Freiburg im Breisgau and has been selling Van Raam bicycles since December 2019. In this article he answers some questions, so you can get to know the company better and also find out what makes it so unique.
1. Why has Lauf und Rad Guth become a Van Raam Premium Dealer?
Lauf und Rad Guth has become a Van Raam Premium Dealer because we are enthusiastic about Van Raam. The construction of the Van Raam bicycles is good, they have a very good standard equipment and the family character appeals to us very much.
2. How do you help customers who are looking for a Van Raam bicycle?
Test ride
Our store has a large parking area where you can test ride the bikes. There is also a wide pavement. In addition, there are various options available that we can install on the bicycle. We have a large showroom and a warehouse for accessories and options.  
Purchasing process
During the appointment, we discuss with the customer what disease problems he/she has. We then choose the desired bike and let the customer sit on it. We adjust the bike to the needs of the person and then start the first cycling attempt. If it goes well, we make longer rides in the courtyard under supervision, and then on your own.

After the test ride, we will prepare an offer and once it is agreed, we order the bike. We inform the customer about the delivery time and ask for a deposit. Once the bike is delivered, we make an appointment to deliver the bike to the customer. We adjust the bicycle to the needs of the customer, explain and discuss everything again. If agreed, we collect the rest of the money. We wish the customer a good ride and we continue to offer service after the purchase of the bike.

We also have a number of Van Raam bicycles in stock.
3. How does Lauf und Rad Guth help customers who already have a Van Raam bicycle?
We continue to offer good service, especially after the sale. If the customer already has a Van Raam bicycle, but wants to buy a new one, we will discuss which one it should be. We look at the old bicycle; you can also trade your old Van Raam bicycle with us. We negotiate the price and finally deliver the new bike.
4. What is your best experience of a customer with a Van Raam bicycle?
That I can give customers a convincing advice by looking at what they want. It is also important to look at what they need for a functional bicycle. By looking at this, you can best help the customers.
5. What makes Lauf und Rad Guth unique as a Van Raam Premium Dealer?
We are unique because we are a team of 3 people who offer good advice and very good service. We are always ready to answer any questions you might have about your bicycle needs. In addition, we have a good and extensive range and a large showroom.
Financing and insurance
We have Easy Kredit as a financing option and Allianz as an insurance option.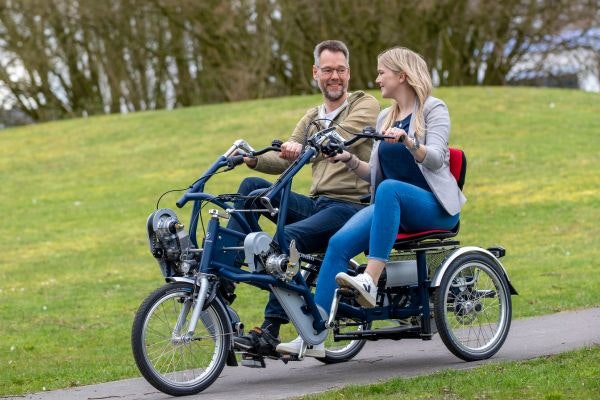 Simon's favourite Van Raam bicycle: Fun2Go side-by-side tandem
This is my favourite Van Raam bicycle because it meets the needs of many life situations.
Contact details of Lauf und Rad Guth
We are easy to reach by car and by public transport. Free parking spaces are available at our store. You can find Lauf und Rad Guth's contact details on the dealer page.
More about Van Raam Premium Dealers
It is possible to order a Van Raam bicycle at a Van Raam Premium Dealer. A Premium Dealer has at least the following bicycles in his showroom:
The dealer has product knowledge and a specialist is present. Furthermore, a workplace and skills to perform service are present. Read more about the different types of Van Raam dealers. 
Get to know more Premium Dealers
Van Raam gives Premium Dealers the opportunity to introduce themselves in an interview of 5 questions. In this article you get an overview of all Premium Dealers who have answered these questions.
Do you have any questions?
We are happy to assist you! Please check our contact page or contact us directly using the options below.