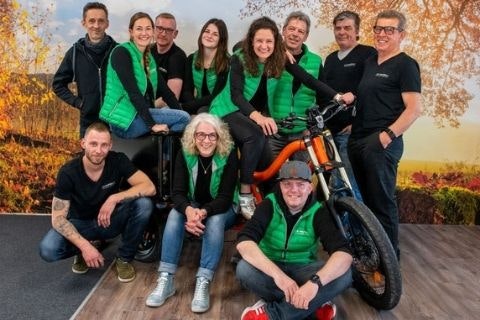 News
5 questions for Van Raam Premium Dealer Emotion Fuchstal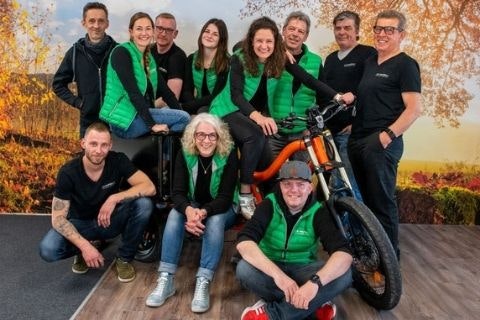 Emotion Fuchstal was founded in May 2019 and has also been selling Van Raam bicycles since then. Judith Schlögel, who has been working in sales in the area of tricycles and special bikes at Emotion Fuchstal since 2020, would like to tell you more about the company and the things that make Emotion Fuchstal unique.
1. Why did Emotion Fuchstal become a Van Raam Premium Dealer?
As a specialist shop for e-bikes and contractual partner of Emotion, we have also become a premium dealer to sell special needs bikes to people who can no longer ride a normal two-wheeled bicycle.
During the sales consultation and test rides, options can also be applied to a bicycle.
Judith Schlögel
2. How do you help customers who are looking for a Van Raam bicycle?
After a greeting, a conversation takes place about the person's handicap or health difficulties.
Test ride
During the conversation and test rides, options such as crank shortenings and foot fixations can also be fitted to a bicycle. This way, the bicycle can be adapted to your needs. The test ride takes place in our showroom or the parking lot.
Purchasing
After the test ride, an offer is made. After ordering the bicycle and arrival of the bicycle at our premises, the bicycle is checked. When the bicycle is handed over to you, it will be adjusted to your wishes and needs. We also have some Van Raam bicycles in stock, which shortens the delivery time.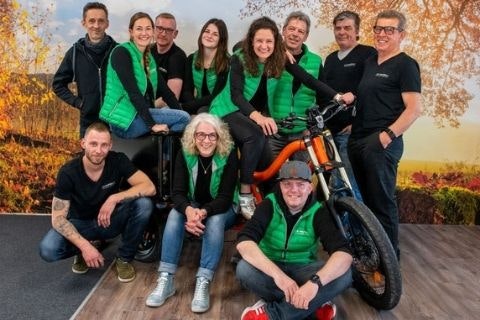 3. How does Emotion Fuchstal help customers who already have a Van Raam bicycle?
We help people who already own a Van Raam bike with our services such as maintenance and repairs. We have a perfectly equipped repair shop for this purpose.
4. What is your best experience witha customer with a Van Raam bicycle?
Before Christmas 2020, we started a fundraising campaign in favour of Christoph Seliger. He has a condition that progressively limits Christoph's mobility despite his young years. The goal is for Christoph to get an electric tricycle with which he can get around easily and, above all, independently. And it worked! See the photo here of Christoph on the Van Raam Easy Rider!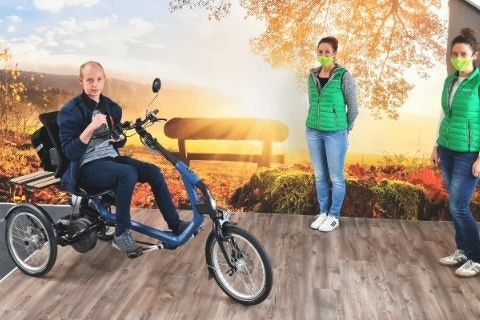 Top advice from specialised staff.
Judith Schlögel
5. What makes Emotion Fuchstal unique as a Van Raam Premium Dealer?
At Emotion Fuchstal we offer you top advice from specialised staff as well as financing and insurance options.
Financing
We offer various financing and leasing options for your purchase of a special bicycle.
Insurance
We offer bicycle insurance through ENRA. This can also include a pick-up service in the event of a breakdown.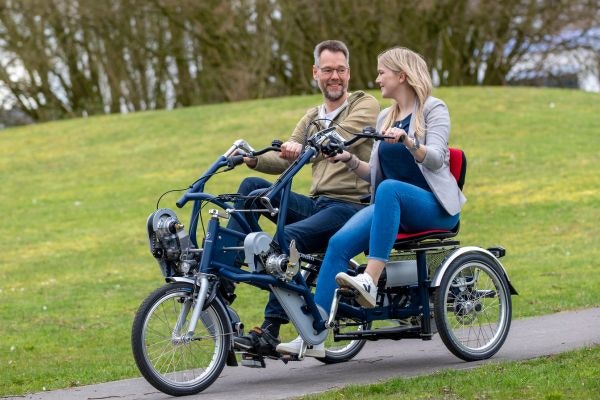 Judith's favourite bike from Van Raam: Duo bike Fun2Go
The Fun2Go Duo bike is ideal for a sporty activity for two!
Emotion Fuchstal Contact information
Our Emotion Fuchstal showroom is easy to reach. You can also park in front of the door free of charge. You can find the contact information of Emotion Fuchstal on the dealer page.
More about Van Raam Premium Dealers
It is possible to order a Van Raam bicycle at a Van Raam Premium Dealer. A Premium Dealer has at least the following bicycles in his showroom:
The dealer has product knowledge and a specialist is present. Furthermore, a workplace and skills to perform service are present. Read more about the different types of Van Raam dealers. 
Get to know more Premium Dealers
Van Raam gives Premium Dealers the opportunity to introduce themselves in an interview of 5 questions. In this article you get an overview of all Premium Dealers who have answered these questions.
Do you have any questions?
We are happy to assist you! Please check our contact page or contact us directly using the options below.