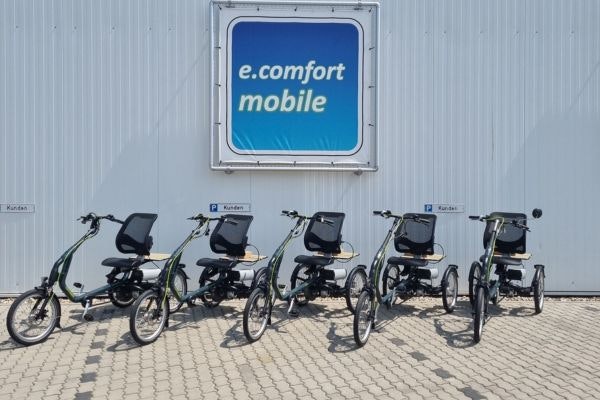 News
5 questions for Van Raam Premium Dealer e.comfort-mobile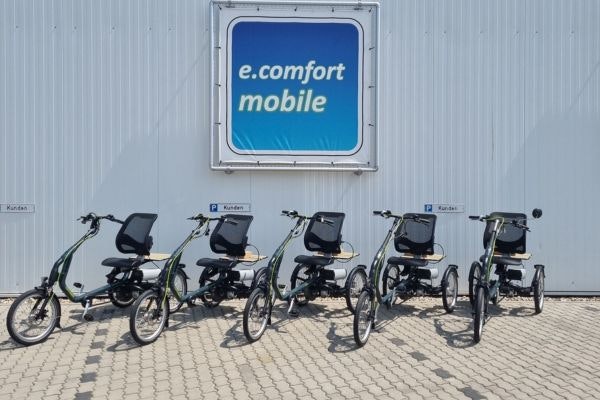 André van der Hoeven is the managing director of e.comfort-mobile GmbH in Isselburg, which was founded on 6 June 2013. In this article he answers some questions so that you can get to know the company better and also learn what makes it special.
1. Why did e.comfort mobile become a Van Raam Premium Dealer?
We have been a Van Raam dealer since 2 September 2013. We decided to do this because we noticed that there is a great demand for quality. We have the most popular models in our showroom for testing. The demand for testing before buying is high.
2. How do you help customers who are looking for a Van Raam bicycle?
Test ride
During business hours, customers can come in for information or a test ride. We do this by appointment, so we can plan more specifically and the customer does not have to wait so long if someone is there just before them. We can also arrange home visits. The average appointment time for a test drive is one and a half hours.

In our showroom we have options such as footrests, shortened cranks, a footplate on site to try out. With the Fun2Go duo bike, the most common options are already assembled.
Purchasing
After a test ride, we will send you a non-binding offer for the bike with all the options you want. If you then wish to order the bicycle, you will receive an order confirmation from us. We will then order the bicycle. Some Van Raam bicycles we have in stock, in which case the order step will be skipped. As soon as the bicycle is ready and we have picked it up, we will check the order and deliver it to you. On site, we will adjust the bike exactly for you.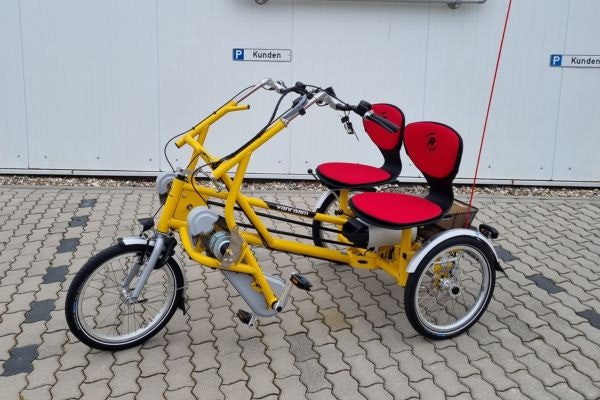 3. How does e.comfort mobile help customers who already have a Van Raam bicycle?
We also offer service repairs, maintenance and warranty processing. However, we also offer roadside assistance and, if necessary, sales with commission.
4. What is your best experience of a customer with a Van Raam bicycle?
For one customer we were able to guarantee a quick delivery because of the life expectancy was also very limited. The bicycle was enjoyed to the fullest for one year, this was said with one smiling and one tearful eye even during the funeral service.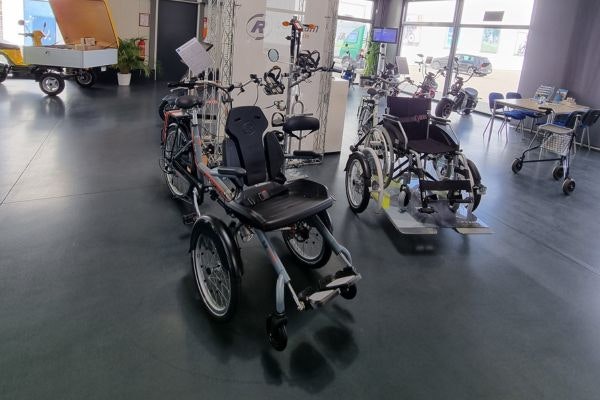 5. What makes e.comfort mobile unique as a Van Raam Premium Dealer?
We are a company that sells electrically powered vehicles and our team consists of two salesmen, two mechanics and an accountant. Service is written with a capital S at our company. We offer information sessions at official facilities but also at home visits. We have service buses and roadside assistance available during our opening hours. We also offer bicycle insurance through ENRA.
Service is written with a capital S at our company.
André van der Hoeven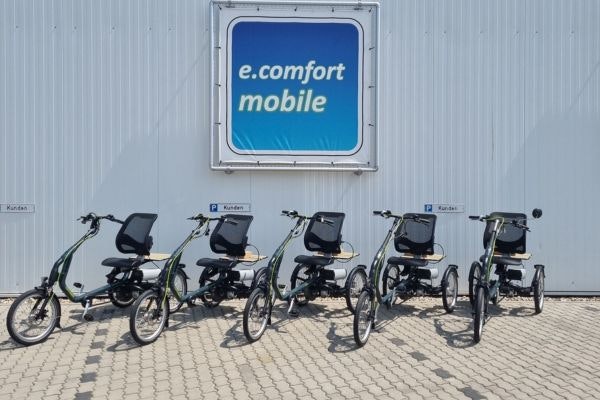 André's favorite Van Raam bicycle: The Easy Rider seat tricycle
The bike has a sporty appearance and also an optimal seating position. A TOPBIKE! We look to the future and new bikes with great enthusiasm.
Contact information from e.comfort mobile
You can reach our showroom easily by car and bicycle. You can reach us directly from the B76 before exit 3. We have more than enough private parking spaces and they are of course at your disposal free of charge. You can find the contact information of e.comfort mobile on the dealer page.
More about Van Raam Premium Dealers
It is possible to order a Van Raam bicycle at a Van Raam Premium Dealer. A Premium Dealer has at least the following bicycles in his showroom:
The dealer has product knowledge and a specialist is present. Furthermore, a workplace and skills to perform service are present. Read more about the different types of Van Raam dealers. 
Get to know more Premium Dealers
Van Raam gives Premium Dealers the opportunity to introduce themselves in an interview of 5 questions. In this article you get an overview of all Premium Dealers who have answered these questions.
Do you have any questions?
We are happy to assist you! Please check our contact page or contact us directly using the options below.