News
5 questions for the Van Raam management - Video
The management of Van Raam consists of 3 persons; Marjolein Boezel, Jan-Willem Boezel and Ronald Ruesink. Get to know the directors better by watching this video in which they are asked 5 questions.
5 questions for the management of Van Raam
Questions and answers from the Van Raam board
In the video above 5 questions were asked to the management, read here the answers from Marjolein, Jan-Willem and Ronald:
1. Can you introduce yourself?
Marjolein: 'My name is Marjolein Boezel, I work for Van Raam since November 1993. I am the financial director and also a shareholder together with Ronald and Jan-Willem.

Jan-Willem: 'I am Jan-Willem Boezel, I am the technical director of Van Raam and have been working here since 1998.'

Ronald: 'I'm Ronald Ruesink, commercial director of Van Raam and co-owner. I have been working here for over 31 years, so since 1990.'
2. What makes it interesting to work at Van Raam?
Jan-Willem: 'If you do your best at Van Raam, you always have the opportunity to grow. We are an innovative company with a great drive. We are a small world player and I think that is great fun.'
3. What is a common prejudice about your work?
Ronald: 'People have the idea that salespeople only talk and socialize a on the phone and that they only freewheel a little. That may be the case sometimes, but it is also something very serious. You're having serious conversations with end users and dealers, and sometimes that can be tough. For many companies, it's also about being able to make a good profit. We also have contact with purchasing parties and those talks are at the cutting edge. Those conversations are sometimes a little less pleasant and that is often not seen by many people.'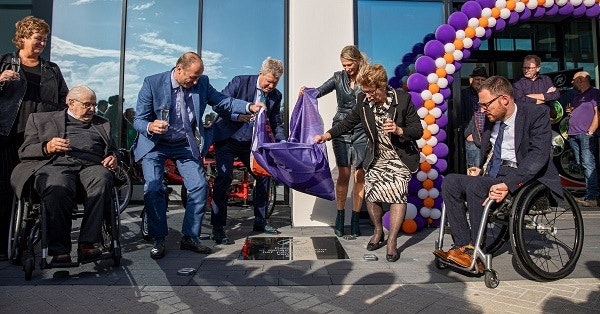 4. What is your most memorable Van Raam-moment?
Marjolein: 'That may sound strange, but having the feeling that we are achieving something beautiful together. The best thing I like about Van Raam isthe Van Raam parties, the Maypole party which had quite a highlight.' Read more about Marjolein's favorite moment in the article 'Festive opening of new bicycle factory Van Raam'.
5. What is your favorite Van Raam bike?
Jan-Willem: 'My own favorite Van Raam bicycle has yet to be invented. The real comfort of an adapted bicycle is still missing. A nice bike would be one that allowed you to cycle on a bike path in an upright position and not notice any bumps in the road. That is actually the most beautiful bicycle that should be available.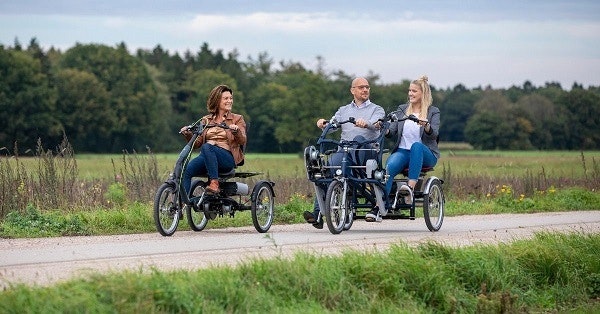 Marjolein:'My favorite Van Raam bike is the Easy Rider. It just cycles great.

Ronald: 'Of course I have many favorite bikes. All of Van Raam's bikes are my favorites, but if I have to name one, I think the Fun2Go is great. Why? With this bike you help people who would otherwise be sitting behind the geraniums. The bike is often sold at nursing homes, institutions, places like that. You give these people a chance to get out again. This is very pleasant, both for them and for their carers. It keeps them moving and everything is easier, like climbing stairs. So as far as I'm concerned the Fun2Go is the top model of Van Raam.
Productvideo's Easy Rider en Fun2Go
Bekijk hieronder de productvideo's van de Easy Rider driewielfiets (links) en Fun2Go duofiets (rechts).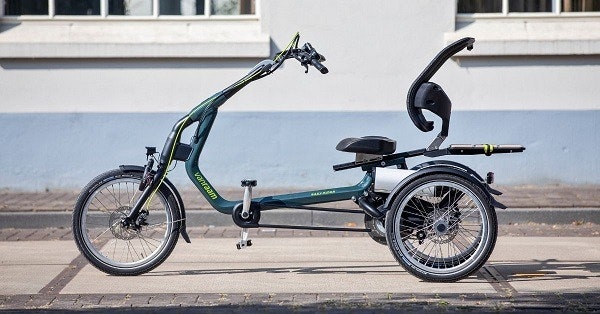 The favorite bike of Marjolein: Easy Rider
The Easy Rider is a comfortable tricycle from Van Raam and the favorite of Marjolein Boezel. This third generation sitting tricycle cycles very easily, even for people who have never cycled on a tricycle. Some benifits of the Easy Rider are:
Low entry

Very stable

Very agile, it can rotate around its own axis

Pedal support is possible (Smart E-Bike)

Comfortable adjustable sittings with backrests
Read all the benefits on the product page of the Easy Rider.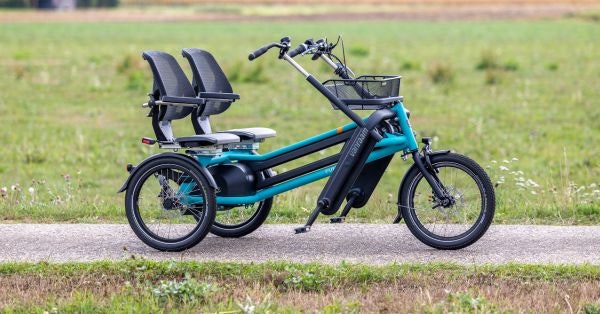 The favorite bike of Ronald: Fun2Go
The Fun2Go is a side-by-side-tandem from Van Raam where the users sit next to each other. This gives them good contact with each other and they can both optimally enjoy the surroundings. The Fun2Go has a driver who steers and pedals, the co-driver can optionally pedal along. Some benefits of the Fun2Go are:
No step in, easy to take your seat

Comfortable adjustable seats with backrests

Easy to use

Very agile, bike can rotate around his own axis

Pedal support possible (Smart E-Bike)
Read all the benefits of this popular bicycle with care institutions on the product page.
Möchten Sie mehr über Van Raam und die Geschäftsführung erfahren?
Möchten Sie mehr über (die Geschichte von) Van Raam erfahren? Dann schauen Sie sich die Seite 'Über uns' an. Hier können Sie sich auch die Dokumentation mit der Geschichte von Van Raam ansehen.  
Series: 5 questions to - Get to know Van Raam employees
Van Raam would like to give employees the opportunity to introduce themselves in an interview of 5 questions. Get an overview of Van Raam employees who have answered these questions in this article.
Do you have any questions?
We are happy to assist you! Please check our contact page or contact us directly using the options below.