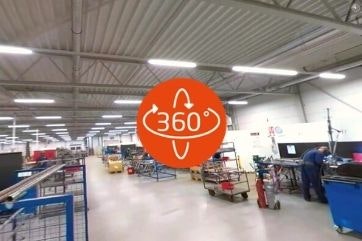 News
360 degree video tour of the Van Raam production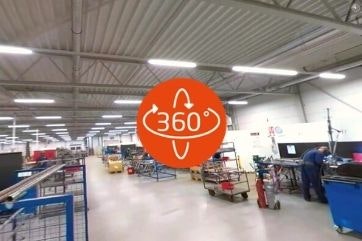 Are you curious how the Van Raam production in Varsseveld looks like? Take a look at our production in our 360 degree video and control youself in which direction you want to look.
Video: 360 degree Van Raam production
If you want to watch the video in 360 degrees on your smartphone, you must open the video in the YouTube app. Otherwise, the video will play here on the website and on the YouTube mobile website in 2D and not in 360 degrees.
Van Raam Production
In Van Raam's production many frames for special bicycles are made every year with more than 30 employees. Each bicycle is made individually to order for adults and children with a disability or for people who are looking for more safety and stability when cycling.
The steel tubes for an adapted bicycle arrive at the production department. These are now processed with various machines and welded together with the help of welding robots. The Lutec extraction system ensures good air quality for the employees.
Furthermore, the welders work with positive pressure masks so that they constantly get fresh air and the mask protects them directly from the welding fumes. In our 360 degree video tour you can see among other things a welding robot at work. You can also see that in addition to the numerous machines, craftsmanship is also required to make a Van Raam custom bike.

Besides the welding robot, there are other innovative machines in our factory, such as a 3D laser machine or the Style BT 1000 milling machine. 
We prefer quality over quantity and take pride in every bike frame we deliver.
Mazak 3D laser machine
The Mazak 3D laser machine performs a variety of tube machining operations on tubes for the Fun2Go, Easy Rider, Midi, Maxi frames so that a bicycle frame can then be created. The machine reduces 60% of processingtime compared to traditional machining. This increases production and we work more accurately. The machining can be done here on site, in the Netherlands.

After the tubes have been finished, the hand-welding department (in the middle) welds on cable holders and the like.
Van Raam welding robots
At Van Raam we have6 welding robots and 12 welding stations. The welding robots have a track (a kind of rail) that allows the whole machine + arm to move from left to right. Therefore, the welding robot can move more and faster and perform the welding movement. Each bike has its own fixture, this is crucial for production.
All tube parts are placed in the mold and welded together. Each bike has its own program. The frames are checked and perfected by hand.
Style BT 1000 Milling Machine
The Style BT 1000 milling machine, a CNC processing machine, has several integrated tools for tube processing, with which it can perform operations on tubes in quick succession. For example, two Easy Rider tubes can be machined simultaneously. Holes can be drilled in the frames and this can be done on larger parts such as the frames for the Easy Rider.
This machine has a simulation option. So before the actual machining can be seen with which tools and in what order the operations are performed.
Quality before quantity
Quality is at the forefront at Van Raam, the Dutch quality bicycles are therefore also accordingly, ISO 9001:2015. ISO 9001:2015 is a standard that specifies requirements for the quality management system of an organization.
More 360 videos by Van Raam?
See the Van Raam paint shop in our 360 degree video and learn more about how we powder coat frames.
Do you have any questions?
We are happy to assist you! Please check our contact page or contact us directly using the options below.