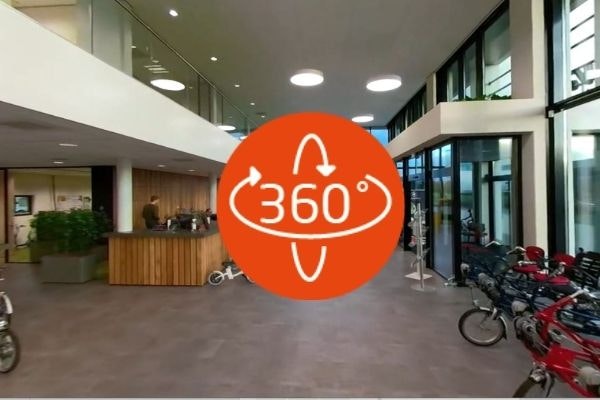 News
360 degree video tour in the showroom of Van Raam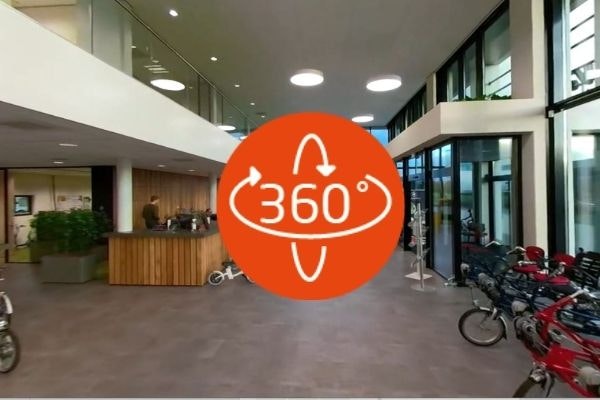 Are you curious about the Van Raam showroom? Take a look at the 360 degree video tour in the showroom. Control yourself in which direction you see. Read more about our Sales deprartment in de article.
Video: 360 degree video tour in the showroom of Van Raam
If you want to watch the video in 360 degrees on your smartphone, you must open the video in the YouTube app. Otherwise, the video will play here on the website and on the YouTube mobile website in 2D and not in 360 degrees.
Showroom of Van Raam in Varsseveld
Through the entrance of our building in Varsseveld you enter directly our Van Raam showroom. In our showroomall Van Raam bicycles are displayed. In addition to tricycles, wheelchair bikes, tandems, double rider bikes, low step-through bikes, walking aids and mobility scooter bikes, many of the most common add-ons and accessories are also available here. All apppointments take place take place in our showroom. We don't sell bikes in our showroom, this goes through our dealers.
Appointments and test rides
You can visit our showroom in Varsseveld for private counseling. Ourtechnical advisors will give you an explanation of the various Van Raam bikes and give advice which bicycle will fit you best. Our advisors can have 1 maximum of 4 appointments a day. With four technical advisors the total result is 80 appointmets per week. Especially in the high season (april - september) it's busy and are all the moments planned full. In total there can be 4000 appointments in a year.
Try out a bicycle on our test track
During a test ride it's possible to try out our test track with different obstacles.Van Raam has designed a bike test track to simulate situations that also occur regularly in daily life. Read more about oud test track in the article 'Testing adapted bikes on the Van Raam bike test track'.
Sales department
Approximately 20 people work in the sales department, they have the following positions:
Back office staff

Field service staff

Technical advisors

Account managers

Export managers
Our back office is responsable for all the test rides, taking orders, making quotations en answering questions by e-mail or telephone. The account- and export managers are the central contact for Van Raam dealers all over the world. The field service drive throughout the Netherlands for appointments and test rides on lacation.
Van Raam showroom in Treuchtlingen (South of Germany)
There is also a Van Raam showroom in Treuchtlingen (South of Germany): Van Raam Beratungszentrum Deutschland-Süd. it is possible to try different models of Van Raam bikes, get advice and eventually a custom offer in the showroom in Germany. Just as in our showroom in the Netherlands, we do not sell bicycles here. This goes through a dealer or local bicycle shop.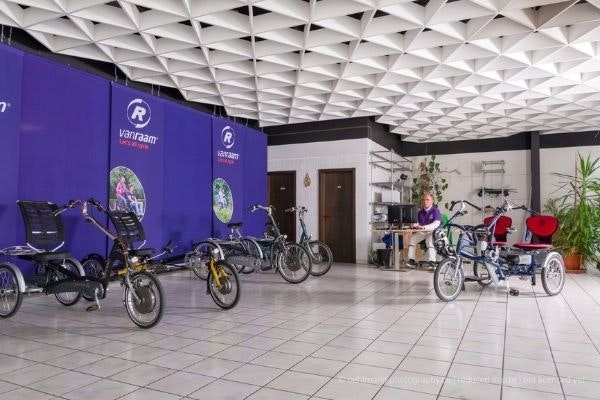 Make a test ride at Van Raam
Do you want to make a test ride with a Van Raam bicycle in the showroom in Varssveld? You can make online an free appointment. Are you not able to come over to our showroom in Varssveld? It's also possible to make an appointment with a Van Raam dealer near to you. Contact a dealer in your area for more information.
Watch more 360 degree video's of Van Raam
Are you curiuous about the other 360 degree video's of Van Raam? You can choose the department you would like to see in the overview and take a virtual look in our assembly, production and paint shop.
Do you have any questions?
We are happy to assist you! Please check our contact page or contact us directly using the options below.