Customer experiences
Customer experience wheelchair bike VeloPlus - Margret Bussen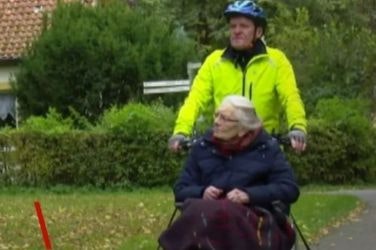 Margret Bussen from Germany is 93 years old and thanks to the rickshaw service in Schieder-Schwalenberg she can finally go outside again. Read more about her experience with the VeloPlus wheelchair bike and the rickshaw service for the elderly in this customer experience.
Rickshaw service for the elderly brings freedom
In Schieder-Schwalenberg, Lippe Germany, the Rikscha Senioren Service has set up a fun project for elderly people, to give them a good time and to keep them among the people. Together with elderly people Rikscha Senioren Service makes beautiful bike rides with special bikes such as the Van Raam VeloPlus transport bike. The 93-year-old Margret Bussen was the first passer-by and she has been a big fan ever since!

There are 6 'rickshaws' available in Schieder-Schwalenberg. A team of about 30 volunteer cyclists serve as rickshaw drivers. They take turns to take the elderly for a nice bike ride in the area. "Elderly people should have the opportunity to go outside".

The bicycles will soon be part of the townscape in Schieder-Schwalenberg. The project was financed by donations and sponsoring.
 
In addition to the VeloPlus wheelchair transport bike, Rikscha Senioren Service also has a Chat rickshaw bike and a Fun2Go side by side tandem with which the volunteers can take passengers on a ride.
Thanks to the VeloPlus Margret Bussen cycles through Schieder-Schwalenberg again!
Albert Holtkamp
Margret and Albert on the VeloPlus
Margret is a wheelchair user: "Because I can't drive a car and cycling is no longer possible, the wheelchair is often my only choice.

The rickshaw service is a big change for Margret, because the 93-year-old normally rarely leaves her house. Rickshaw driver Albert Holtkamp is also enthusiastic about the rides: "I like to listen to the stories of the passengers. You can learn so much from them and I look forward to it every time I see Mrs. Bussen".

Because Margret and Albert enjoyed cycling on the VeloPlus so much, they have already planned their next trip!

Margret Bussen  - Schieder-Schwalenberg (Germany)
Type: VeloPlus wheelchair transport bike