Customer experiences
Customer Experience Easy Rider tricycle - Nicole Corneillie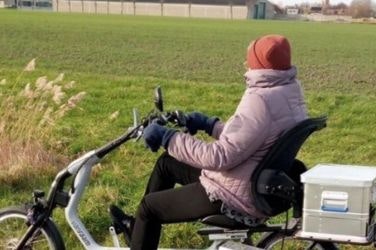 Nicole had lost her balance after several cerebral infarctions. Now she cycles with the Easy Rider tricycle. Read her experience here.
Trying out Easy Rider tricycle at exhibition
"My name is Nicole Corneillie, I am 60 years old and live in Veurne, Belgium. After several cerebral infarctions, I no longer have any balance. During the REVA exhibition in Ghent, I was introduced to the Van Raam Easy Rider tricycle. I was able to try out the Easy Rider during the fair.

After that, I consulted the Van Raam website and watched some YouTube videos. Eventually, I ordered the Easy Rider from Goed Thuiszorgwinkel in Bruges."
Everyone looks full of admiration at this beautiful bike.
Nicole Corneillie
Getting my independence back
"I use the Easy Rider trikefor recreational cycling and for running errands. It gives me back my independence. Everyone looks full of admiration at this beautiful bike.

Among the options I have chosen are pedal assist, a custom colour, a speedometer and a one-handed lock. I also use the Van Raam e-bike app. In the beginning it was somewhat of a search, but now it's going well.

It's nice that the Easy Rider is so steady. I like the trike very much and I am very satisfied with it. On a scale of 1 to 10, I give the Easy Rider tricycle a 10!"

Nicole Corneillie – Veurne
Type: Easy Rider tricycle