Customer experiences
Customer experience Easy Rider tricycle - Heike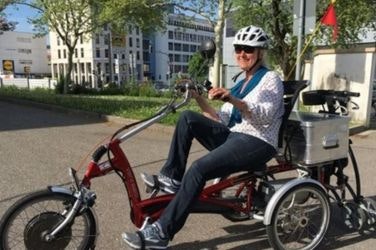 Heike has already had her Easy Rider adult tricycle since 2017 and cycles with it almost every day. It has completely changed her life and given her the freedom back, even if she wouldn't have thought it at first. Read more about her experience and the new attitude towards life.
A brief introduction
Heike lives in Freiburg, Germany, and has had her Easy Rider tricycle since December 2017. In 1995, Heide had meningitis. Due to the resulting one-sided paralysis, her freedom of movement is still limited today. In addition, she developed a circulatory disorder in her legs. Heike was not at all sure that it would work when her physiotherapist suggested that she should get an e-bike.
Since the purchase, I am a new person!
Heike
Bicycle with 3 wheels gives you back freedom
Heike tells us: "My whole life has changed: I am no longer dependent on driving and delivery services, I can now go shopping for myself and my employer, go to work and go on holiday independently. It is especially nice that I have also found a new clique of tricycle riders. We go on holiday together and go on bike tours. We even cycled from Freiburg to Basel. This was an absolutely great experience for the whole group. It almost felt like we had climbed Mount Everest, an absolute sense of achievement."
The purchase of the Easy Rider
"Before buying the bike, my daughter and I went to the bicycle shop Lauf & Rad in Freiburg and got great advice. In order to be able to finance the bike, we collected money from colleagues, friends and relatives via a crowd-funding platform on the internet. Every contribution was important. My employer contributed the rest. Afterwards, I was able to buy my Easy Rider 3-wheeler at Lauf & Rad-Guth in Freiburg in December 2017. Since then, I am a new person! In short, the purchase was a complete success!"
I'm looking forward to the more kilometres on my Easy Rider tricycle.
Heike
Tricycle for adults with electric support
"I chose the Easy Rider for adults with electric support. So I opted for the unique Van Raam pedal support, with the addition of 2 extra batteries. I also use the Van Raam E-Bike app. This allows me to see my speed, battery status and total distance cycled, which are also my favourites and the most used functionality. In addition, I have other options and accessories on my bike, making it customised to my needs. Namely, I have a mounting for a rollator and an aluminium box on my Easy Rider.
Experience with the Easy Rider tricycle
"I really like the bike! My fitness and sense of balance have improved a lot and most importantly I have my freedom back. I also get asked about my tricycle a lot. People find it super great to see, although there are also many bikes in our region, but not of this kind. Now, about three years after I bought the Easy Rider tricycle, I already have 23,000 km on the odometerand the bike would have to be sent to the Van Raam factory for repair. I'm looking forward to the more kilometres on my Easy Rider tricycle."
Heike – Freiburg
Type: Easy Rider 2 tricycle