Customer experiences
Customer experience Easy Rider tricycle – Hans-Dieter Naegele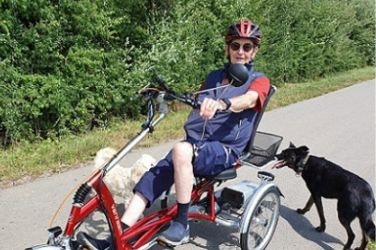 Hans recently purchased an Easy Rider and sent Van Raam his findings. A bike with 3 wheels takes some getting used to, but by cycling regularly he is getting better and better, also in the mountain areas where he lives. Read more about Hans and his Easy Rider tricycle in this customer experience.
Reason of purchase
I have balance problems and not much strength, due to a ruptured abdominal aortic aneurysm (AAA) for which I also had to have surgery. I used to cycle a Pedelec mountain bike, but I started looking for other alternatives and now I own a Easy Rider tricycle. After 6 weeks the fire red Easy Rider finally come to me in Bonndorf im Schwarzwald, where I live. After an extensive explanation I was ready to start!
The bike has brought me to the top with every climb so far!
Hans-Dieter Naegele
Experiences with the Easy Rider
A bike with 3 wheels takes some getting used to, that's why I now cycle regularly to gain experience. How does it work? How fast can I cycle? Do it not fall over? You have to get used to it, especially in Schwarzwald where it's quite mountainous. But cycling on the Easy Rider goes great! The bike works well and has brought me to the top with every climb so far! Also the starting aid is great, for example if you want to start on the mountain and need a little boost. I also use the Van Raam Bike App. Pairing with the cell phone works well, although I would like to use more functions. When I'm done with my bike ride I park the Easy Rider in the garage again, that goes great with the reverse function. All in all, I am very satisfied!

Hans-Dieter Naegele – Bonndorf im Schwarzwald (Germany)
Model: Easy Rider tricycle