Customer experiences
Customer experience Duo bike Fun2Go - The Holland family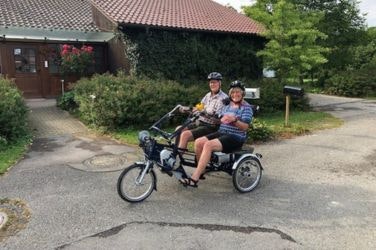 Van Raam received a very nice message from Axel and Heilwig Holland. They have now cycled more than 5,000 kilometres on their Fun2Go Duo bike! Read more about their experiences and adventures.
Specifications
(RAL 5011) Mat Steel blue
Pedal assist, Mountain gears, Comfort seat XL, SmartGuard Tyre
Configure your bike
Why we wanted a Fun2Go side-by-side tandem
"Dear Sir or Madam,

We have had a Van Raam Fun2Go since 1 September 2019 and have completed the 5,000 km.
We bought an Easy Rider at the end of April 2018 - as I had limited vision at that time due to an eye condition. Until Sept. 2019, I cycled almost 2,500 km with it - partly accompanied by my wife or children to be accompanied or guided by them with a radio intercom system. Unfortunately, in summer 2019, my eyesight deteriorated so much that driving - even with accompaniment - unfortunately became impossible."
We hope that we will be able to ride many more (thousand) kilometres on our tricycle.
The Holland family
Purchasing the Fun2Go tricycle tandem
"Due to the good experience with our Easy Rider tricycle, we then decided to buy a Fun2Go at short notice. I have now been cycling with this almost daily, and since 1 September 2019, in all weathers, mostly on the road with my wife. Not only here in Upper Swabia, but also in the Lech Valley in Austria, for example. Basically, we are very satisfied with our tricycle - although it was hardly built for such mileage. Chains and gears have already had to be replaced. We hope that we will be able to ride many more (thousand) kilometres with our tricycle!"
Fun2Go electric duo 3-wheeler with more options
Axel and Heilwig Holland have an electric Fun2Go with the unique Van Raam pedal support. "We have chosen to equip the Fun2Go with various options, including the more powerful motor and larger battery. As it is very hilly here in southern Germany, both the motor and the larger battery have proved their worth! Of course, the range depends on the programme and the support group - since we ride with maximum support, one battery charge is enough for us for about 50 km.

Furthermore, we have the comfort seats - as we also ride on many gravel roads, these are very comfortable and tours of more than 2 hours can also be managed well. 

For the tyres, we chose the puncture-proof Reiden - these have also proven themselves on our tours."

Axel und Heilwig Holland – Southern Germany
Type: Fun2Go duo bike