Customer experiences
Customer experience Fun2Go duo bike - Gérard Gatard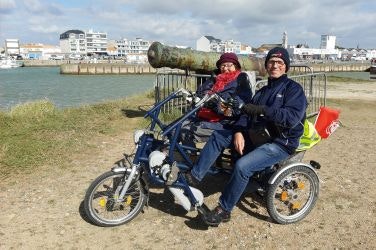 Gérard and his wife regularly go on vacations in France with the camper, but because his wife has a bad leg and the camper places are quite far from the city centers, it is sometimes difficult to visit places. Therefore, in 2020, they purchased the Fun2Go duo bike. Read Gérard's message to Van Raam here.
Specifications
(RAL 5011) Steel blue matt
Pedal assist, Mirror, Armrest, Footrest
22 September 2020 purchased
Configure your bike
With my wife on the Fun2Go duo bike
"Good afternoon,

My wife and I purchased the Fun2Go duo e bike in September 2020, after a vacation in the southwest of France. We went with the motorhome, but we realized that the motorhome sites are quite far from the city centers or places to visit. My wife, who has mobility problems, could not follow me to visit the places we went through, which is not so nice for her.
 
Upon our return, we were looking for a solution to be able to visit the regions we still want to visit together. We thought about a small car with a trailer, but that would increase the length of the camper. Then we found the Fun2Go duo e bike. We tried the bike in St Anne D'Auray 56, where the salesman was very professional. Of course, it comes with a price tag, but after thinking about it for a few weeks, we decided to go for the duo bike and we don't regret it. Since September, we have already covered about 900 km. My wife really appreciates it. She didn't think she would be able to cycle again one day."
Many people have called to tell us the duo bike is great!
Gérard Gatard
"To transport the duo bike behind the camper we bought a trailer and with the reverse gear on the duo e bike it is very easy to put the bike in the trailer. As soon as we bought the duo bike we were able to test it in vacation mode and we liked it very much. We could park it on a campsite and cycle more than 10 km to visit a city and its harbor. Many people have called to tell us the duo bike is great! We are looking forward to the nice weather to visit France with the Fun2Go duo bike.

We regret that this type of bike is not offered to the general public, because during our rides (we are fortunate that there are many bike paths along the coast) many people ask us for information about this duo e bike that they have never seen before. Some are also interested because one of the two in the couple has mobility problems, either due to age or health. The salesman in St Anne D'Auray has given us flyers to hand out to people who are interested, we are happy to advertise this Fun2Go duo e bike, because it is perfect!
 
Kind regards,
Gérard Gatard"

Gérard Gatard - Saint Hilaire de Riez (France)
Bike: Fun2Go duo bike