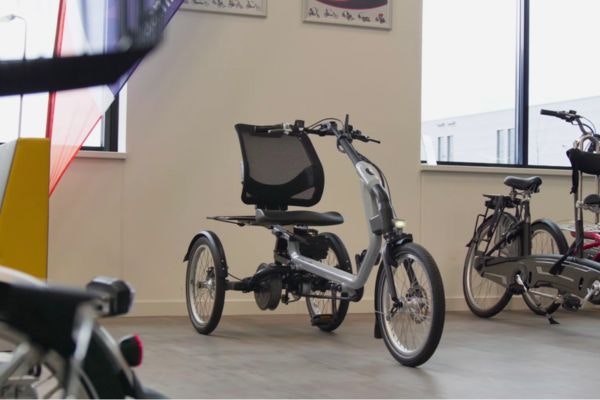 News
Van Raam's Bike Selfcare Service for Easy Rider tricycle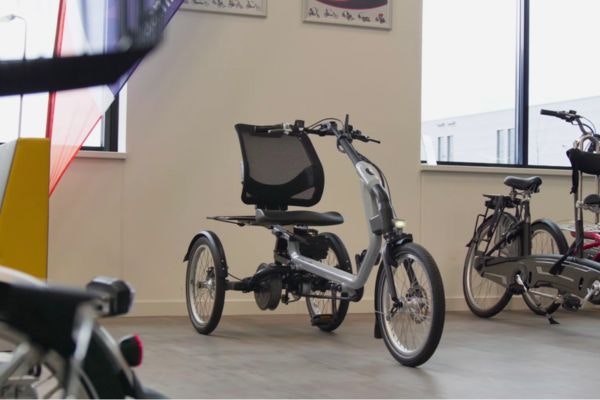 Van Raam's unique and innovative Bike Selfcare Service for the Easy Rider tricycle will be available to you from 1 April 2021 and later this year for all other Van Raam bikes. Find out what this new and groundbreaking option entails in our video, by the entire board.  great features and optionsnever have to worry mobile and independent for longerat work or don't have timevery easy to ridewith an appointment
Van Raam April Fool's joke
As you may have noticed, this is an April Fool's Day joke. Although this option is not available, the Easy Rider offers some great features and options. For example, if you have a Smart E-Bike (Van Raam pedal-assist bike), you can see where your bike is via the app or view cycled routes back. Try out these and many other options on a test ride! At some dealer locations it is also possible to make a test ride, please contact your local dealer for more information.

We also have many tips for you on cycling with an adaptedl bike.
With this development, we are taking an important step in the bicycle industry and in the rehabilitation sector.
Ronald Ruesink
What is the Van Raam Bike Selfcare Service?
Since we should move our bike more, but we are not always able to, there is now a system in the bike that accurately measures when the bike is not getting enough attention.

Is the bicycle not getting enough attention? "Then the bicycle lets itself out, so the bike still covers the kilometres it has travelled" says director Jan-Willem Boezel.So you aren't using your bike for a few days? No problem at all! You'll never have to worry about your beautiful bike getting too little attention again!
This option is available from the 1st of April for the Easy Rider and later this year for all other Van Raam bicycles.
How did the Bike Selfcare Service project start?
The idea came because we should all cycle more. It's better for people's health, better for the environment, simply for everyone.

But the question "are we cycling enough?" gave us the kick-start for this service. A large proportion of people have a great bike standing in their shed, but don't use it enough. Yet it's not just people who need their exercise.

Van Raam's slogan "Lets all Cycle" was therefore not chosen without reason. If people with a disability can be mobile and independent for longer, they are happier. So why shouldn't this apply to their bike?

This is why Van Raam is introducing the 'Van Raam Bike Selfcare Service' (Article number: 385-0104)on April 1st. Do you already have an Easy Rider 3 and would like to have this option? That is possible, because this option can also be added later. 
Easy Rider also in 3D/ Augmented Reality
Is your bike on a nice bike tour and you couldn't join it because you are at work or don't have time for a bike ride and now you miss it a little bit? Watch the Easy Rider in the comfort of your own room! You have the opportunity to see the Easy Rider adult tricycle in 3D in your own room. Read the article "View the Easy Rider 3D tricycle in your room" to find out how to experience the Easy Rider in your own room.

Easy Rider tricycle for adults
The Easy Rider tricycle is a 3-wheeled bicycle with a seat for adults. This tricycle is very easy to ride. The Easy Rider has a comfortable and very convenient seat with adjustable backrest, tailbone support with raised side edges for better comfort and support. Find out more about the Easy Rider 3-wheeler on the product page. See more photos, videos and specifications of the adult tricycle.
Test this feature during a test ride
Come to our showroom in Varsseveld with an appointment as of April 1st and take a test ride on our test track with the Easy Rider and the Van Raam Bike Selfcare Service! Or visit us at our Van Raam Advice Centre Germany South in Treuchtlingen. Here you can test the Easy Rider! Is this not near you? At some dealers a test drive is also possible, please contact your local dealer.
More innovation at Van Raam
Would you like to see more innovation? Innovation within a company, like the 3d scanner you can see in the picture, means the introduction of new techniques into the production process or the production of new or improved products. Read more about Van Raam's innovations on the "Innovations page".
Do you have any questions?
We are happy to assist you! Please check our contact page or contact us directly using the options below.