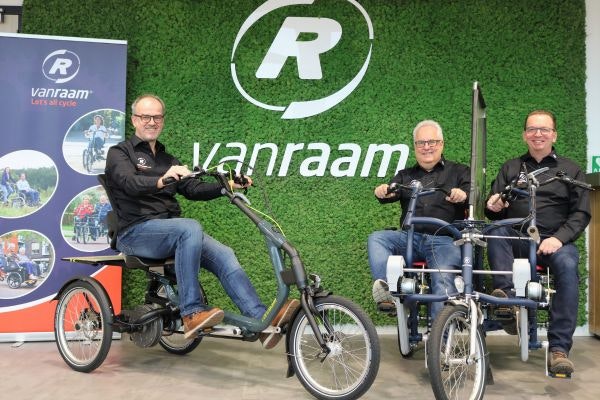 News
Three account managers for Van Raam in Germany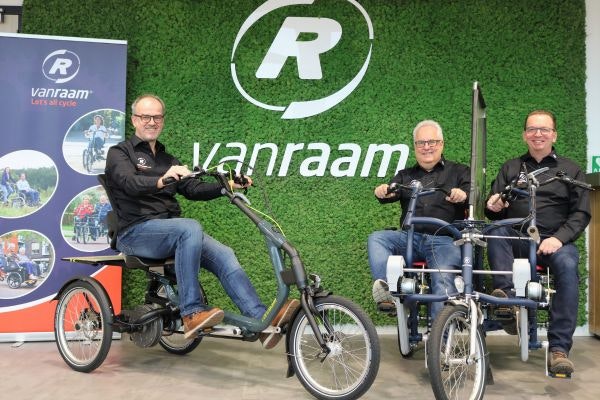 Van Raam, manufacturer of adapted bicycles has hired for the first time three new account managers for Germany at the beginning of 2021 and also introduce the renewed Easy Rider tricycle for adults. Read more here!
Update:
Watch a video of our account managers from and for Germany below. You can also find out what their experience has been so far. In the meantime we have also grown, get to know our new colleague Jürgen Horstmann in our video.
Van Raam's new account managers in Germany
Van Raam has hired three absolute industry professionals with many years of experience to bring mobility to everyone in Germany. Quite in line with Van Raam's slogan "Let's all cycle".

The new colleagues Martin Schroedter, Lothar Hörmann and Mathias Heun support Van Raam in keeping up with and expanding its steady growth. They are the contact persons for the dealers in their region to further expand the dealer network.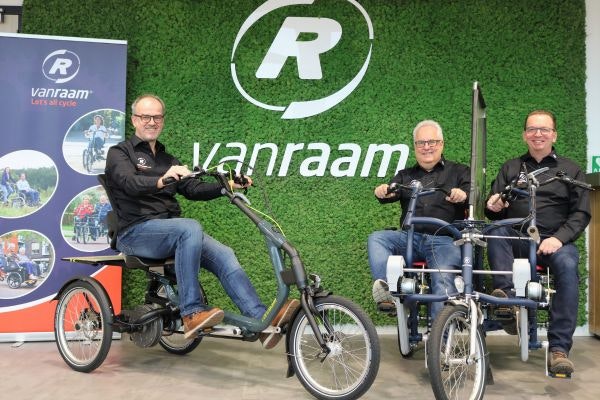 To further strengthen Van Raam's position in the market and give a face and regular contact in addition to good visibility and presence on the Internet.
Commercial Director Ronald Ruesink
Martin Schroedter at Van Raam
After 16 years of special bicycle experience at PFIFF/PFAU-Tec, Martin Schroedter has now started his engagement at Van Raam. He is responsible for the regions North Rhine-Westphalia, Lower Saxony, as well as Bremen and Hamburg to find new dealers and to support existing dealers.
Mathias Heun at Van Raam
Since 1992 Mathias Heun is engaged in the industry with among others Hartje. He can live out his love of mobility and manufacturing in his area of northern Bavaria, Hesse, Rhineland-Palatinate, and also in Saxony and Thuringia, following the motto of Van Raam Let's all cycle. He is also responsible for customer relationsand finding new dealers in his area.
Lothar Hörmann at Van Raam
After 30 years in the industry and with almost seven years of experience with Draisin tricycles, Lothar Hörmann is another professional to join the Van Raam team. An enthusiastic cyclist himself, he enters his new area of Southern Bavaria and Baden-Württemberg with just as much enthusiasm to increase mobility and accessibility with high quality in Southern Germany.

Van Raam is excited about this addition and looks forward to collaboration, new ideas, and the already blossoming engagement.
New Van Raam buses for account managers in Germany
Van Raam received three new buses from DAGO Bedrijfswagens. The buses are stickered in Van Raam style by Suselbeek Reclame and will be used by our three account managers Martin, Mathias and Lothar in Germany! 
Also new: the renewed Easy Rider
The account managers for Germany are also taking the renewed Easy Rider adult tricycle to Germany.

The new Easy rider tricycle for adults has, in addition to the low entry, also an easy handling.This comes among other things also by a very comfortable seat with an adjustable backrest and coccyx relief. The seat can be easily adjusted with a quick release lever.At the backrest are raised side edges that provide better seating comfort and lateral support.
The Easy Rider also remains available both with and without electric system. If you choose the Easy Rider with pedal assistance, the bike is a smart e-bike and the special thing is that you can also ride backwards, for example.

The design of the Easy Rider tricycle has a sporty look, which is also due to the hydroformed frame. Almost all the wiring runs through the frame, which contributes to the appearance of the tricycle and provides additional protection for the cables. A chain tube is used as a chain guard, which not only contributes to a nicer design, but is also practical. The Easy Rider has the standard color (RAL 7026) Granite Gray and also has a range of optional colors.

Learn more about the Easy Rider on the product page click the button below.
Do you have any questions?
We are happy to assist you! Please check our contact page or contact us directly using the options below.