News
Bike for older men
Bikes

\ Cycling independently
Van Raam makes different types of special needs bikes that are suitable for people who cannot cycle ( anymore) on a regular bicycle, including the elderly. Read more about the Van Raam bikes suitable for an older man in this article.
What types of bicycles does Van Raam have for older men?
Van Raam has several types of bicycles that are suitable for both older men and women. These are the following types of bicycles:
Low step through bikes

Tricycles

Mobility scooter bike
Low step through bikes for older men
The Balance bicycle and the Maxi Comfort tricycle are Van Raam's low step through bikes. Besides a low entry, these bicycles have a unique frame. Because of this frame, you do not sit above the crankshaft, but slightly behind it. You can therefore always reach the ground with both feet, while still sitting on the saddle. You also make a forward pedal movement, which enables you to give a lot of power. Neck, shoulders, back and wrists are less stressed because of the ergonomic sitting position. The Maxi Comfort tricycle is also very stable thanks to its three wheels. Read more about these two models in the article 'Men's low step bike by Van Raam'.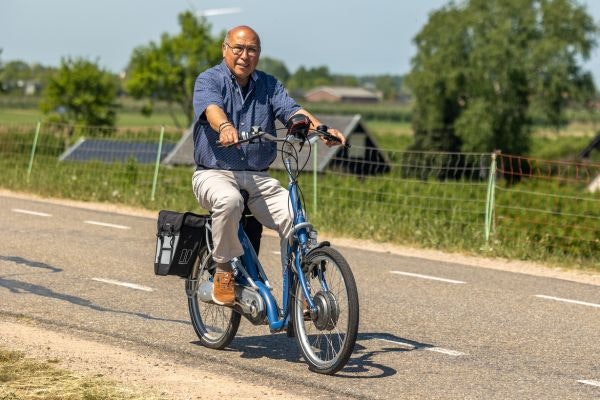 Bike with three wheels for old man
You opt for a tricycle if you need more balance when cycling and if you can no longer cycle on a bike with two wheels. Van Raam has various types of tricycles that allow you to cycle safely and get (back) on the road:
Traditional tricycle: This type of tricycle has a high seating position where you can get on and off easily.

Low step through tricycle: low entry and unique frame so you can always reach the ground with both feet.

Comfortable tricycle: with a seat, low entry and a forward pedaling movement, which takes away the unsafe and unstable feeling of a tricycle.

Tricycle with two front wheels and one rear wheel: these tricycles are especially for people who have difficulty estimating the width of the bicycle and whether it can go through or past somewhere.
Read more about the different types of men's tricycles in the article 'Men's tricycleby Van Raam'.
Mobility scooter bike for old man
Van Raam's electric mobility scooter bike Easy Go is specially designed for people with stability problems or varying energy levels, so it is very suitable for the elderly. The highly maneuverable and compact Easy Go can be used as a tricycle, tricycle with pedal support or as a mobility scooter. When riding in the mobility scooter setting, you can rest your feet on the foldable footplate.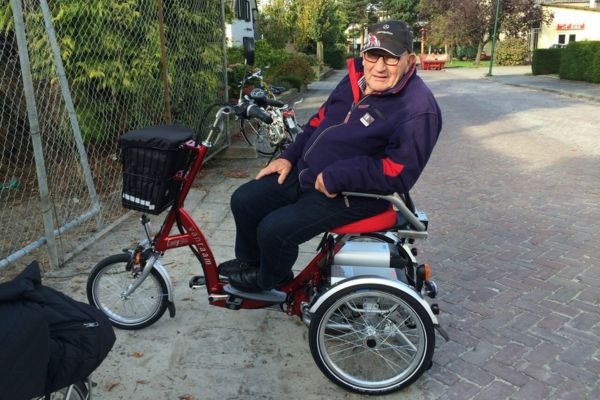 Van Raam electric bike for an old man
A Van Raam electric bike for an old man men has the unique Van Raam pedal support system. Thanks to an almost silent motor and battery, you can cycle with support. The Van Raam Silent System is characterized by its simple use, and the possibility to program the support individually. The starting aid helps you to get started while cycling. With a tricycle, you have the option of cycling backwards. With the E-Bike App, in addition to its use as a luxury bicycle computer, you can change your bicycle settings, view battery data and review cycled routes.
Options and accessories on your bike
To make the bike fit your needs and wishes, it is possible to choose options and accessories for your bike. These options, such as a mirror, direction indicator, stick holder or walker holder bracket, make cycling easier. Using the online configurator, it is possible to assemble a Van Raam bicycle with the desired options and accessories.
What is the difference with a bicycle for younger people?
Van Raam looks at the height of the cyclist and listens to the needs and wishes. Van Raam's bikes are therefore not specifically designed for women or men, or for older or younger people. With a colour of your choice and various options and accessories, you can customise your own Van Raam bicycle for an older gentleman or woman.
Experiences of elderly men
Read some customer experiences of elderly gentlemen with their Van Raam bicycles below.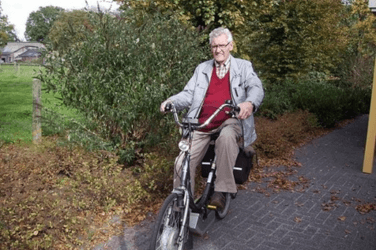 User experience low step through bike Tavara Balance - Albert Smit
Until 2006 Van Raam made the Tavara Balance, the forerunner of the current Balance low step through two-wheeler bike. The Tavara Balance is also a low step through bike where the rider can always stand with two feet on the ground. Meanwhile, the Tavara Balance is replaced by the Balance bike, but people are still cycling around on this safe and comfortable bike. Among these Tavara bicycle users is Albert Smit. Albert Smit is 78 years old and has been using his Balance Tavara for over a decade. Read more about his experiences below.
Read this customer experience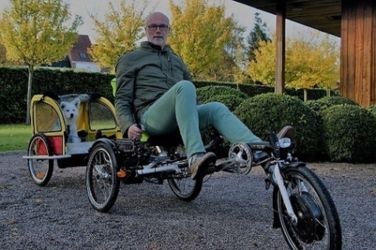 User experience recumbent trike Easy Sport - Bernard van Maele
I have been in possession of an Easy Sport for about a month now and I want to let you know that I am very satisfied. The bike is very well adjustable on my body and I feel absolutely safe with it.
Read this customer experience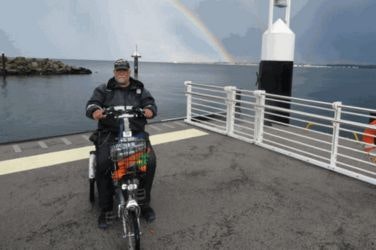 User experience Easy Go scooter bike - Horst Weidemann
After 10,600 km in 25 months (of which 4,000 km have been cycled in 2018) with my Easy Go I can warmly recommend Van Raam bicycles.
Read this customer experience
;
Trying out a Van Raam bike for older men
An extensive test ride is very important! Tastes differ and everyone has his or her own preferences. Would you like to try out one or more Van Raam bicycles? This is possible during an appointment at Van Raam. During the free appointment, a technical advisor will help you and you can test the Van Raam bicycle on the bicycle test track. Also, the frequently selected options and accessories are available in the showroom. A test ride is also possible at some Van Raam dealers. Contact a dealer in your area for mor information.
Do you have any questions?
We are happy to assist you! Please check our contact page or contact us directly using the options below.