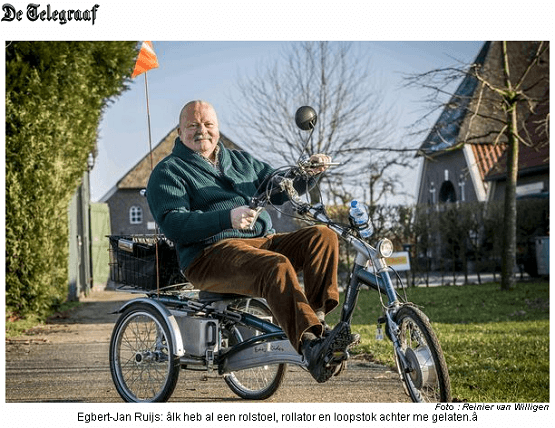 News
Bicycling post brain tumor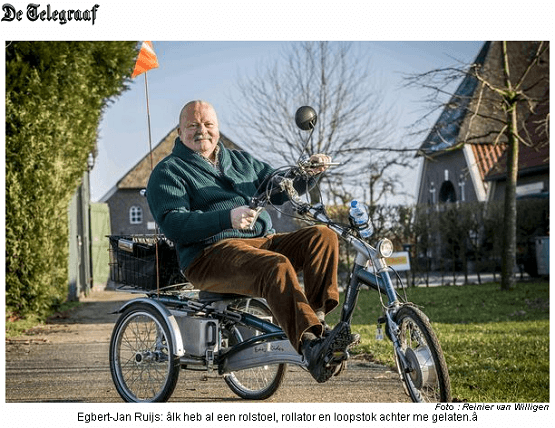 Egbert-Jan Ruijs from Barchem (the Netherlands) shared the story of how he went bicycling, suddenly blacked out and fell on from his bike, with the Telegraaf (Dutch newspaper). After extensive examination Mr. Ruijs turned out to have a tumor in his brain.
Five years after the indicent, he is still convalescing. He has abandonned his wheelchair, zimmer frame and cane and now solely focusses on bicycling on a tricycle.
Because his vestibular area has been damaged, Mr. Ruijs now bikes on a tricycle instead of a bicycle. "I will ride a bicycle!" He selected the Van Raam Easy Rider, a tricycle with a comfortable, lowered seat and low step through that allows for a safe biking experience.

Read the story of Egbert-Jan Ruijs, who has been riding his Easy Rider tricycle after his brain tumor was removed, down below.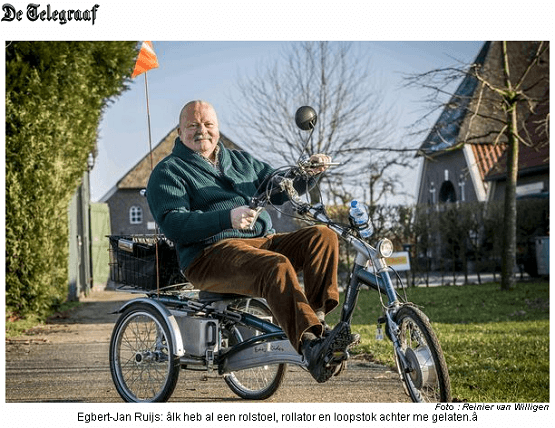 Translation Dutch article: I must ride my bicycle again
I'm alive!
'I must ride my bicycle again!'

66-year-old Egbert-Jan Ruijs from Barchem feels blessed; he's had an angel on his shoulder ever since he was diagnosed with cancer. He now has a partially artificial skull. 

"I really enjoyed riding my bicycle. It is what I did that day, five years ago. Suddenly everything blacked out before my eyes and I fell on the ground, just a few inches away from a moat. I could have easily fallen into the water and drowned. Luckily it didn't take long before someone found me and before I knew it I was in an ambulance.
Research determined that I had a tumor in my brain, a meningioma. I was immediately informed of the fact that it concerned a slow-growing tumor that can often be removed completely. And so it happened. 
The day after my surgery I was taken to a rehabilitation center where it was touch-and-go again. I passed out in the shower. In the hospital it turned out that I had an abcess, an inflammation, right where the tumor had been. I had to undergo another surgery on my skull and the doctors saw that my tumor was actually an atypical variant that could in fact grow rapidly. 
Not everything had been taken out. It was a blessing in disguise because otherwise the doctors would have never found out. 
Ratiation treatment was inevitable. It damaged my vestibular area; at a certain point I was not even able to walk. But I am very stubborn, so as soon as the radiation treatment was over, I started my recovery. I no longer use my wheelchair, zimmer frame or cane and I plan on getting back on my bicycle. I now own a tricycle and am not ashamed of it for one bit. I will ride a bicycle again.
Do you have any questions?
We are happy to assist you! Please check our contact page or contact us directly using the options below.