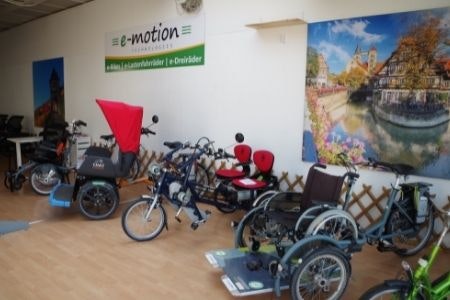 News
5 questions for Van Raam Premium Dealer Dreirad-Zentrum Stuttgart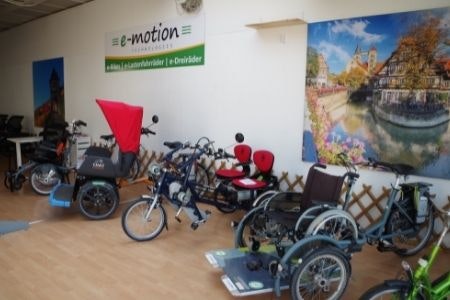 Dreirad-Zentrum Stuttgart-Esslingen was founded in 2016 and has also been a Van Raam Premium Dealer since then. Udo Nitsche, Managing Director of the Dreirad-Zentrum in Stuttgart, tells more about his company and the things that make it unique.
1. Why did Dreirad-Zentrum Stuttgart - Esslingen become a Van Raam Premium Dealer?
We believe that Van Raam is a premium brand with very good and well thought through solutions. We want to use Van Raam's products to help many different people become mobile again.

We have been doing this since 2016 through the advice, sales and service of Van Raam bicycles. This includes tricycles, transport bikes for the disabled, but also for people who feel insecure when riding a regular two-wheeler.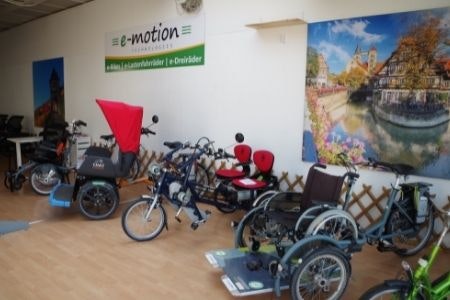 2. How do you help customers who are looking for a Van Raam bicycle?
Test ride and showroom
Our showroom is located between Esslingen and Oberesslingen, Germany. Approximately 1.5 km from the Esslingen and Oberesslingen train stations and a good 400 meters to the bus stop. However, there is also plenty of free parking in front of the door if you want to come by car. We have a large selection of Van Raam bicycles that you can try out on a test ride.

By appointment you can visit our showroom and try out the Van Raam bicycles in the showroom as well as next to the building (without car traffic) and on the bicycle path. During this test ride it is possible to mount different options, such as footrests, on a bicycle. This way, we can adjust the bicycle to your personal wishes, so you can cycle again.
Purchase 
After an in-depth conversation and a test ride, you will receive a offer from us, which can also be converted into an order confirmation. If you decide to buy a bike, we ask for a deposit. After we have received your payment, we will order the bicycle with all your chosen options and accessories from Van Raam.
 
You will receive the estimated delivery date a few days later. We have some Van Raam bicycles in stock, which makes the delivery time shorter. When we have received the bicycle and it is ready for delivery, we will arrange a delivery date with you.
We want to use Van Raam's products to help many different people become mobile again.
Udo Nitsche
3. How does Dreirad-Zentrum Stuttgart help customers who already have a Van Raam bicycle?
We have our own workplace where we carry out all warranty work on bikes bought from us. We carry out almost all service and repair work on the bikes ourselves.
4. What is your best experience of a customer with a Van Raam bicycle?
Being able to witness the amazement of customers who, with a powerful motor, cover climbs and distances they would never have thought would be possible.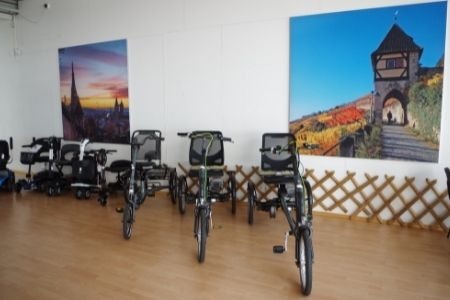 5. What makes Dreirad-Zentrum Stuttgart - Esslingen unique as a Van Raam Premium Dealer?
In addition to a large selection of Van Raam bicycles, the delivery and pick-ups of bicycles, and the possibility of an indoor test ride, we distinguish ourselves by the following:
Financing
We offer various financing options for the purchase of your custom bike. Read more about the different financing options below:
A 4.99% financing up to 72 months

0% financing for 10 months

Three promotional weeks per year for 0% financing with additional 20 and also 30 months to choose from
Insurance
We offer bicycle insurance through ENRA and Alteos. These may also include a pick-up service in the event of a breakdown.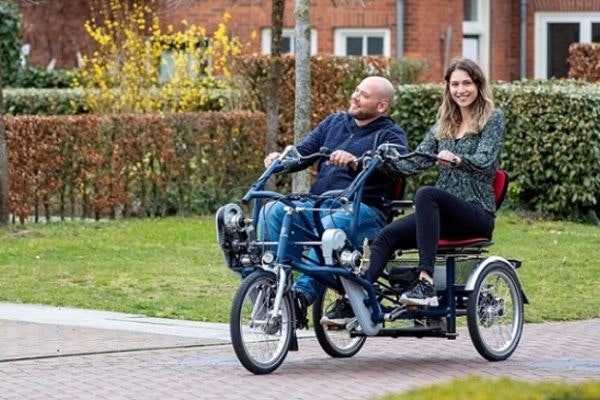 Udo's favorite Van Raam bicycle: the Fun2Go duo bike
My favourite Van Raam bicycle is the Fun2Go companion cycle. It is the most beautiful way for two people to cycle together.
Contact details of Dreirad-Zentrum Stuttgart - Esslingen
Our showroom is easy to reach, both by car and by public transport.

You can find the contact information of Dreirad-Zentrum Stuttgart-Esslingen on the dealer page.
More about Van Raam Premium Dealers
It is possible to order a Van Raam bicycle at a Van Raam Premium Dealer. A Premium Dealer has at least the following bicycles in his showroom:
The dealer has product knowledge and a specialist is present. Furthermore, a workplace and skills to perform service are present. Read more about the different types of Van Raam dealers. 
Get to know more Premium Dealers
Van Raam gives Premium Dealers the opportunity to introduce themselves in an interview of 5 questions. In this article you get an overview of all Premium Dealers who have answered these questions.
Do you have any questions?
We are happy to assist you! Please check our contact page or contact us directly using the options below.