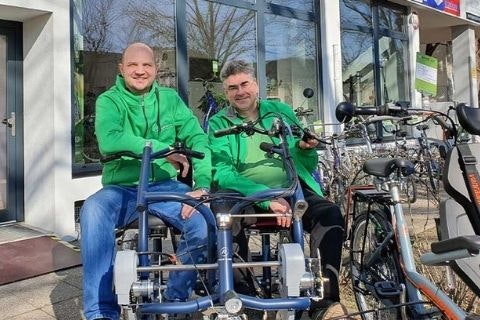 News
5 questions for Van Raam Premium Dealer Dreirad Zentrum Berlin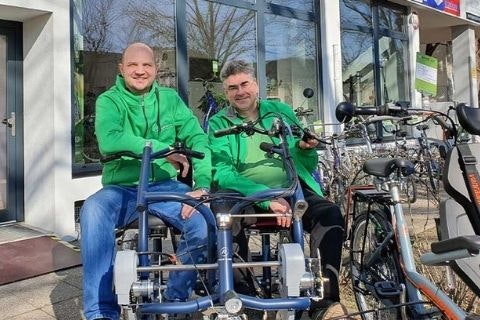 Dreirad Zentrum Berlin Lichterfelde was founded in March 2014 and has been selling Van Raam bicycles since June 2014. Gerald Baudouin is a sales consultant at Dreirad Zentrum Berlin and has been working there since the beginning of 2017. He tells you more about the company and the things that make it unique.
1. Why did Dreirad Zentrum Berlin become a Van Raam Premium Dealer?
We love selling the Van Raam brand and have focused on the sale of tricycles and various customisations. Our available test bikes include almost the complete Van Raam product range.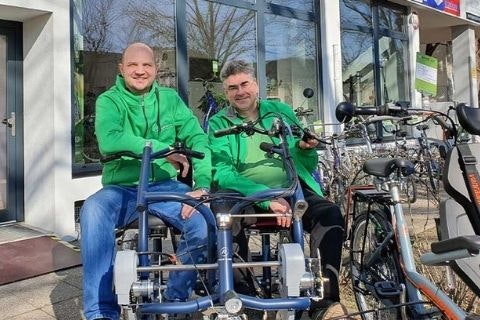 We offer comprehensive test rides with the different models in a quiet spacious area.
Gerald Baudouin
2. How do you help customers who are looking for a Van Raam bicycle?
Test ride
We offer comprehensive test rides with the different models in a quiet spacious area. To do this, it is absolutely necessary to make an appointment. As a customer, you can conveniently make an appointment by e-mail, telephone or simply online on our homepage.
 
We conduct a needs analysis together with the customer. For the most part, this takes place in a detailed dialogue. As soon as we can narrow down the required tricycles, we carry out extensive test rides, adapt the tricycles if necessary and carry out any necessary additions and conversions.
 We can do this because we have extensive accessories in our range, which we can also demonstrate directly on the tricycle. These include luggage boxes, various baskets, walking aid holders, rearview mirrors, footrests, buckle pedals, lower leg fixings, crank shortenings, pendulum pedals, shift aids, various grips and saddles, backrests, belts and much more. Customers receive a written offer from us for the tricycles in question.
Purchasing
The order can be placed in person on-site or by telephone/via email (after a personal test drive). After receipt of the deposit, the order is placed with the manufacturer.

The delivered tricycle will be assembled and adjusted by our specialist repair shop, any necessary modifications will be carried out and, the bike will be adjusted to the rider(s) by our sales advisors upon delivery to the customer.

Upon delivery, the customer receives a detailed explanation and instruction in the technology and operation of the new tricycle. If desired, the tricycle can be delivered to the customer's home ready to ride. We also have some Van Raam bikes in stock, which shortens the delivery time.
It's a great feeling when you can give people back a certain amount of joy and quality of life.
Gerald Baudouin
3. How does the Dreirad Zentrum Berlin help customers who already have a Van Raam bicycle?
In addition to the tricycle sales area at Unter den Eichen 57, the bike shop and the repair shop for both shops are located one house further on at number 58. Our workshop there has the necessary know-how and training to carry out all repairs and maintenance as well as adjustments on your Van Raam tricycle. The workshop is open from Monday to Friday. Please make an appointment in advance.
4. What is your best experience of a customer with a Van Raam bicycle?
I can't link that to a specific case. We often have customers for whom the tricycle is the only way to be mobile again. It's a great feeling when you give people back joy and quality of life. Sometimes we get thank-you letters from former clients. That is then something very special.
We focus completely on sales, advice and customisations of tricycles.
Gerald Baudouin
5. What makes Dreirad Zentrum Berlin unique as a Van Raam Premium Dealer?
We work very closely with the manufacturers and have already been able to implement individual solutions for customers in the past. 

At Dreirad Zentrum we are currently with two sales consultants, Mr Jens Sommerfeldt and myself, Gerald Baudouin. We have specialised completely in the sale, advice and conversion of tricycles. Technically more complex and time-consuming modifications and customisations, as well as annual maintenance work, are carried out by our workshop next door.
Financing
We offer various financing options up to 0% financing, leasing offers and trade-ins are also available.
Insurance
We offer bicycle insurance against theft, vandalism and damage caused by falling. These can be taken out directly on delivery. This means that the tricycle is comprehensively protected from the very first second.
I don't know of any comparably good tricycle on the market.
Gerald Baudouin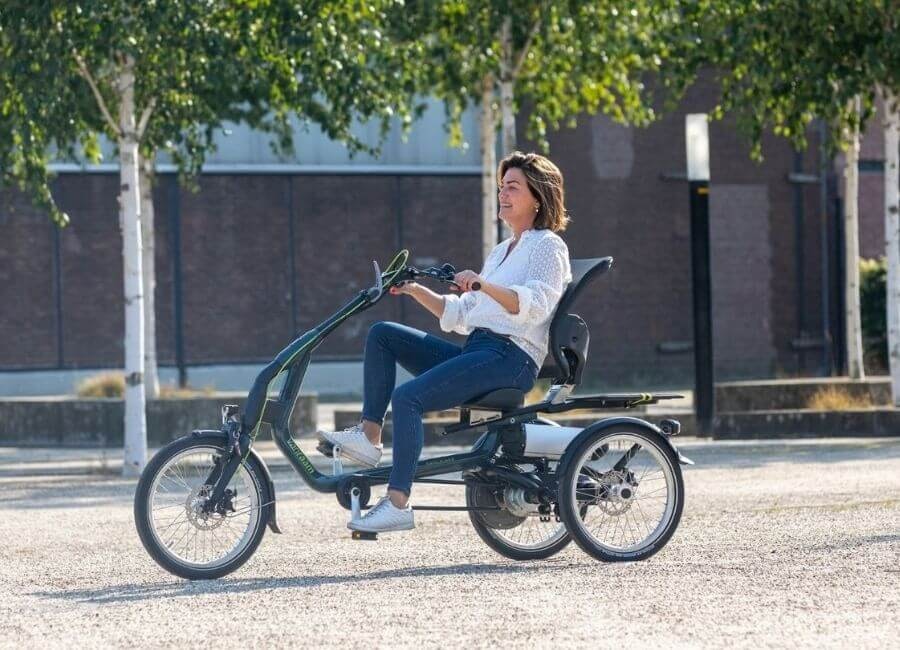 Gerald's favourite bike from Van Raam: Easy Rider seat tricycle
The Easy Rider 3 is an ingenious tricycle. It convinces with its sporty yet comfortable and good-natured handling. The tricycle meets the ravages of time, with its modern look and the latest technology. It looks great in almost any colour. Many innovations compared to the Easy Rider 2 have been implemented very well.

The adjustments of the seat and the handlebars work without tools, the entrance is super comfortable and also feasible for people with a handicap. The seat has become more comfortable than the already very good seat of the predecessor.

The new rear motor offers a much more favourable weight distribution and thus better handling, with even greater tipping stability. The spinning of the drive wheel on inclines is now also a thing of the past. The Easy Rider is the perfect companion especially for pleasure riders and touring cyclists, who can make the most of all its advantages on long tours. I don't know of any comparably good tricycle on the market. However, the Easy Rider also has its price.
View contact information of Dreirad Zentrum Berlin
We are very easy to reach by public transport. The S-Bahn line S1, various bus lines such as the M101, M48 and others stop nearby.

You can also reach us very easily by car. The Steglitz exit of the city motorway is in the immediate vicinity. You can park your car directly behind the building in our signposted parking areas free of charge.
More about Van Raam Premium Dealers
It is possible to order a Van Raam bicycle at a Van Raam Premium Dealer. A Premium Dealer has at least the following bicycles in his showroom:
The dealer has product knowledge and a specialist is present. Furthermore, a workplace and skills to perform service are present. Read more about the different types of Van Raam dealers. 
Get to know more Premium Dealers
Van Raam gives Premium Dealers the opportunity to introduce themselves in an interview of 5 questions. In this article you get an overview of all Premium Dealers who have answered these questions.
Do you have any questions?
We are happy to assist you! Please check our contact page or contact us directly using the options below.