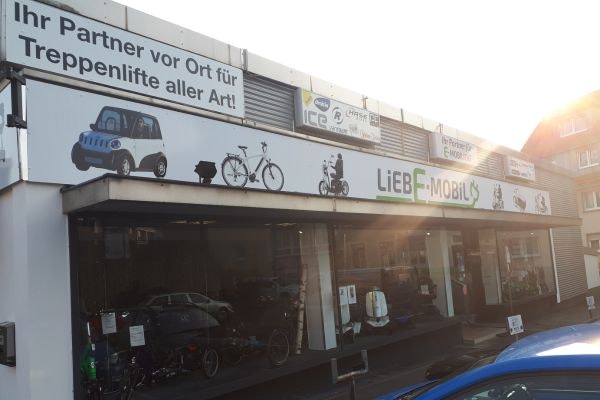 News
5 questions for Van Raam Premium Dealer Liebe-Mobil GmbH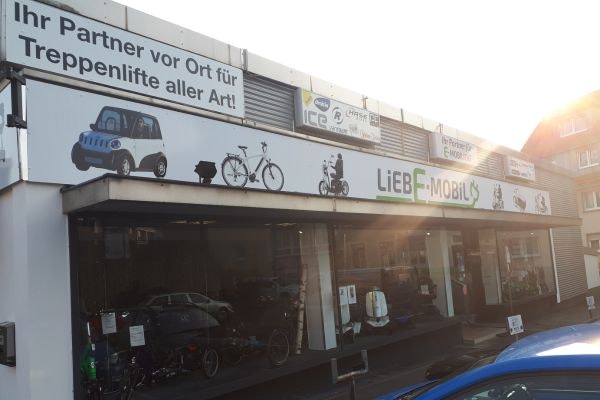 Michael Liebe has been the Managing Director of Liebe-Mobil GmbH in Cologne since it was founded on March 1st, 2020. In this article he answers a few questions, so you can get to know the company better and also find out what makes is so special.
1. Why did Liebe-Mobil GmbH become a Van Raam Premium Dealer?
These bicycles are of the highest quality on the market, they have an attractive design and there is a suitable bicycle for everyone in the range. We have been selling Van Raam bicycles since March 1st, 2020. 

We are a small team of two people who do the sales with the accompanying extensive consultations and test rides, as well as any service to the bikes. Deliveries after purchase and pick-ups for maintenance are done with our van. We have mobility aids such as rollators, tricycles, electric scooters and stair lifts. 
Various options can be mounted during a test ride.
Michael Liebe
2. How do you help customers who are looking for a Van Raam bicycle?
Test ride
Test rides can be made with all models in the parking lot in front of the shop. We take care of our customers personally and individually. Appointments can be made by e-mail or telephone. Customers who come without an appointment will of course be helped, but may need to calculate a little more time.

Various options can be mounted during a test ride. For example, footrests, crank shorteners, pedal adjusters, stand-up aids or pedal extenders.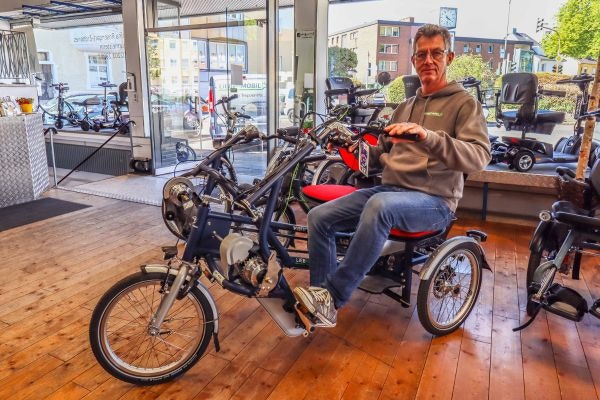 Purchasing
After the test ride, we make a configuration of the bike online with all the additional options that are needed. The customer receives this configuration as a quotation, or they decide on the spot.

The quotation then becomes an order, which the customer signs and then makes a deposit. The configuration is presented to Van Raam in this way, so that no mistakes are made. 

When the bicycle is delivered to us, we immediately check if the bicycle matches the order when it is unpacked. The bicycle is then completed, the battery is charged and any additional parts ordered, such as bags and baskets, are mounted. 

The customer is informed and a delivery date is agreed. The bicycle is delivered to the customer's home, where it is adjusted to the customer. The customer confirms the delivery of the bicycle by signing the delivery note. 

Finally, the customer receives the invoice and pays by bank transfer. A first maintenance check is recommended to the customer after 300 km. 
We have a few Van Raam bicycles in stock. There is also a possibility to trade in bikes. 
3. How does Liebe-Mobil GmbH help customers who already have a Van Raam bicycle?
We offer service, maintenance, warranty processing, spare parts ordering and repairs for all bikes.
4. What is your best experience of a customer with a Van Raam bicycle?
A customer from Belgium who had already tried out many tricycles from different dealers, but could not handle any of them without suffering pain. I have also tried different tricycles of different manufacturers with her. Only with the Easy Rider we could perform a first test ride for her without pain. To give her the chance to really find the right bike, I gave her the bike for a week's trial. The customer has had her bike for about six months now and still thanks me regularly for the newfound freedom. 
The customer still thanks me regularly for the newfound freedom.
Michael Liebe
5. What makes Liebe-Mobil GmbH unique as a Van Raam Premium Dealer?
We offer customers customized pick-up and delivery services. We also have several options for financing and insurance. We have a large selection and the Easy Rider is directly available from stock.
Financing and insurance
As a financing option we offer leasing or instalment payments. We also offer rental, hire purchase and direct purchase. For bicycle insurance we offer ENRA.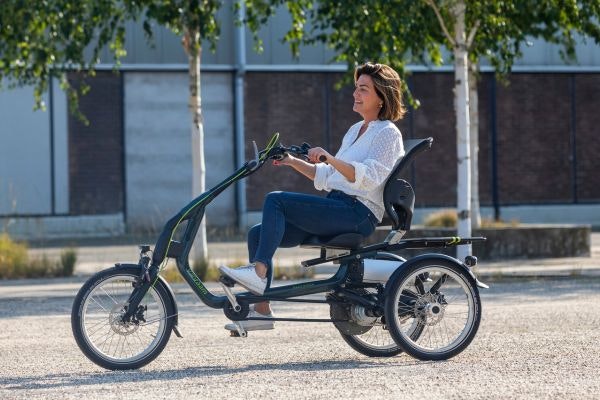 Michael's favorite Van Raam bike: Easy Rider sitting tricycle.
The bike sells great and rides wonderfully.
Contact details of Liebe-Mobil GmbH
Our shop has a very good location in a suburb of Cologne. The A59 and A4 motorways are about 5 km away. Porz train station is about 2 km away. The tram and bus stops are a 5-minute walk away. Less than 200 meters away is the Rhine cycle path, where you can cycle all the way to Bonn and in the other direction to the center of Cologne. We have our own free parking spots right in front of the door. 
More about Van Raam Premium Dealers
It is possible to order a Van Raam bicycle at a Van Raam Premium Dealer. A Premium Dealer has at least the following bicycles in his showroom:
The dealer has product knowledge and a specialist is present. Furthermore, a workplace and skills to perform service are present. Read more about the different types of Van Raam dealers. 
Get to know more Premium Dealers
Van Raam gives Premium Dealers the opportunity to introduce themselves in an interview of 5 questions. In this article you get an overview of all Premium Dealers who have answered these questions.
Do you have any questions?
We are happy to assist you! Please check our contact page or contact us directly using the options below.