Customer experiences
Customer experience OPair wheelchair bike - Freerk de Boer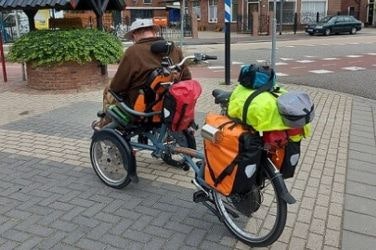 Freerk recently rented the OPair wheelchair bike and rode along as a passenger. Read more about his message to Van Raam in this customer experience.
Message to Van Raam
Hi Van Raam,

We rented an OPair wheelchair bike and I rode along as a passenger. I can safely say that it is a godsend with the detachable wheelchair. It's very practical! In 2020, I already spent 4 days on the road to cycle a part of the Pieterpad and later in December/January we cycled a few more stages. We like to ride on, also in the bends. All in all, it has been a positive experience. Hopefully my own OPair wheelchair bike will arrive soon. Then we can finish the Pieterpad and go even further. As far as I'm concerned, it's an excellent bike!

Greetings,
Freerk de Boer

Freerk de Boer - Twijzel
Model: OPair wheelchair bike
Foundation 'Onbeperkt op de Fiets'
Maria Romp and Freerk de Boer started the foundation 'Onbeperkt op de Fiets' (red. Riding a bike without limits). They want to let everyone cycle in the northern Netherlands. They do this by the rental of adapted bicycles. To raise money for their foundation, they plan a fundraising by cycling from Haren (red. Groningen, Netherlands) to Santiago de Compostella.