Customer experiences
User experience tricycle Easy Rider - Ted Philips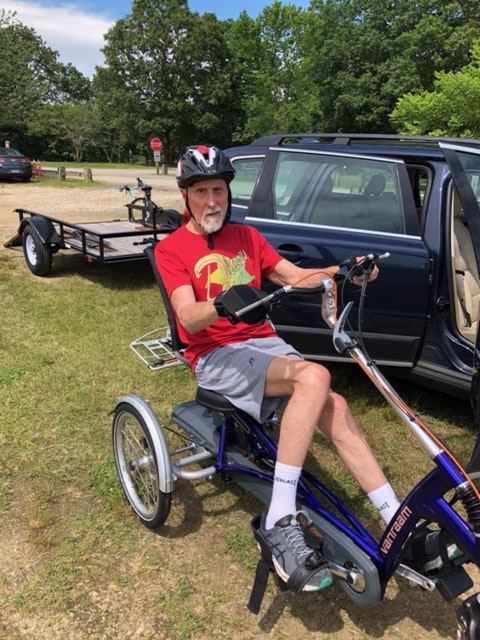 We received this beautiful picture of Ted Philips with his new tricycle Easy Rider. Read more about Ted's cycling experiences in this review.
Ted's experiences
Ted Phillips loves his new Van Raam Easy Rider. Towed it to Rocky Neck State Park with his Carry-On trailer. Ted's recovering from a stroke, and making marked gains with his therapy on his rides.

We wish Ted good luck and prosperity with his Easy Rider tricycle!

Update (October 2020) of Ted's wife: "This photo is so great. Ted's leg is no longer hitting the bar so it has gotten stronger!"

Ted Philips
Type: Easy Rider
Update: May 2021
After Ted has owned the Easy Rider tricycle for about 2 years, dealer Bike-On check's in. How is Ted doing now? And what has the tricycle done for him the past 2 years? You can see it in the video below.
Side notes
Trailers and roof-top carriers
Did you know there are different trailers and roof-top carriers for special needs bicycles? At Van Raam we do not have trailers or roof-top carriers in our assortment. But we do know some suppliers where you can purchase these trailers. Read more in the article 'Trailer to transport a special needs bike'.

Cycling with a brain disorder
In addition to Ted, there are many others who have to learn to cycle again after a stroke. In this article you can read more about cycling with a brain disorder: 'Cycling with a brain disorder'