Customer experiences
Customer experience Easy Rider 3 wheel cycle - Mieke Rolie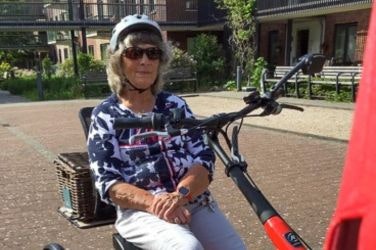 Mieke loves biking and being outdoors, but falling off her bike several times made her anxious. She was burnt out for 1.5 years and wondered if it would ever get better. Recently she got an Easy Rider 3 wheel mobility trike and a new world opened up for her. Read the impressive story of Mieke Rolie here.
Cycling is what I need
"My name is Mieke Rolie. I'm 78 years old and a family caregiver for my husband for 8 years. I have had a life where I didn't have the opportunity to keep up with cycling. I began to fall and became afraid to get on and off the bike. I desperately needed that biking and being outside to stay on my feet and function properly. Since 2 months I have an Easy Rider 3 wheel cycle and my luck is unlimited! I got the Easy Rider from a friend, with all the options I need. A battery and a nice RAL color. I also use the Van Raam e-bike app on my mobile. This makes cycling even more fun."
Cycling with a burnout
"Every day I cycle for an hour or more and my stress is much less. I feel more energetic and happier again. I got out of my burnout through cycling and I'm alive again. I like to share my story because I'm convinced that this is a wonderful substitute for a lot of older people. My son also made a video of me and my Easy Rider 3 wheel cycle."
Video: Easy Rider 3 wheel mobility trike
My Red Devil
"A 3 wheel cycletakes some getting used to. I would say: ride very carefully for the first few weeks and get used to the feeling. And then one day you look around outside, see everything and feel the wind. Then you know that there is still so much to be happy about. The Easy Rider is a great 3 wheel cycle with which I'm very happy. I'm a happy and grateful person again because of my 'Red Devil'.

Mieke Rolie – Nieuwe Niedorp, the Netherlands
Bike: Easy Rider 3 wheel mobility trike