Customer experiences
User experience tricycle for Adults Easy Rider - Krista Pool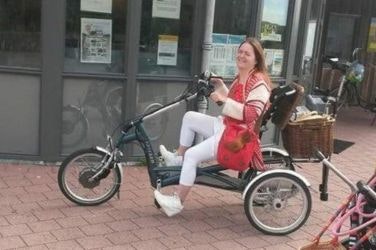 My name is Krista Pool. I am 39 years old and I live together. Through the WMO (Social Support Act in the Netherlands) I own the Van Raam Easy Rider tricycle for adults since the beginning of 2017.
Why purchasing a special needs bike?
I was born prematurely and have suffered brain damage because of oxygen deprivation (Cerebral Palsy and generalized Dystonia). As a result, I am spastic and have a large changing muscle strain. Because of this I never learned to cycle well. On a typical two-wheeler bike this led to accidents regularly. My mother said to me as a child that I needed a tricycle. I did not get this at all.

 As stubborn as I was, I kept trying to cycle on a 'normal' bike. At the age of 37 my health situation changed. Walking and moving became increasingly difficult. My doctor advised me to request a tricycle from the municipality together with an occupational therapist. The first thing I thought was: "The doctor did not really told me this". But it really turned out to be necessary.
Initially, I was very disappointed to cycle with a tricycle. But I can say that this bike has enriched my life.
Krista Pool
First experience with a tricycle
Initially, I bought a second-hand standard Huka tricycle with pedal support. But it soon turned out that this was not the right solution. I almost hung upside down on this bike. This showed that it is very important that the bicycle fits well with the handicap.
Introduction to Van Raam
The occupational therapist came, and an Easy Rider tricycle was requested with several custom adjustments for me. The most important thing for me about this bike is the pedal support, the stick holder and the motor when I cannot continue to cycle. In addition, the bike is adjusted in such way that I can operate the bike with my right hand because my left hand and wrist are splinted.
The Easy Rider has enriched my life
Initially, I was very disappointed to cycle with a tricycle. But I can say that this bike has enriched my life. The Easy Rider tricycle is an addition to my passive aids. I use the bike to go to friends. I also cycle with my partner and friends. I also use my bike to stay in shape and to keep my leg muscles on the right length.
Cycling on Vlieland with my adaptive bike
The best moment with my Easy Rider tricycle was when I took it with me on my vacation to Vlieland (the smallest inhabited island of the Dutch Wadden Islands) last year. For the first time in my life we held a cycling holiday. I enjoyed this holiday very much. The tricycle gave and gives me a huge sense of freedom. The Easy Rider is a nice addition to my electric wheelchair with electric hand bike.
Cycling without fear
It is a nice feeling to be able to cycle yourself while the wind goes through your hair. Regularly I am addressed by people that they think this tricycle is very nice and I often get the question if it is difficult to cycle on this bike. The Easy Rider is special for me because it is the first bike that I have learned to cycle well and that I do not feel anxious about. I hope to enjoy this bike for a long time. For people who doubt about a tricycle, step over your feeling, because a big world will open up for you.
Krista Pool - IJmuiden (the Netherlands)
Model: Easy Rider