Customer experiences
Customer experience Easy Rider trike bike - Jantiene Sloetjes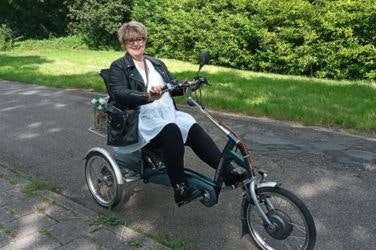 My name is Jantiene Sloetjes, I'm 52 years old and live in the beautiful Hardenberg in the Netherlands. Because of my balance disorder I didn't dare to cycle anymore. But now I have the Easy Rider trike bicycle cycling has become one of my hobbies.
Not daring to ride a bike anymore
"I have a balance disorder, which made me not dare to cycle anymore. Through the Social Support Act I came to Van Raam. I was offered a second-hand Easy Rider trike bike and I made grateful use of it. I've just got it a week ago.

Besides cooking and being creative, cycling has now become a big hobby of mine. I'm so happy! I visit places again which I wanted to visit so badly. I use the Easy Rider to come to my volunteer work and to get around easily. Before, I had to call a cab."
I rate the Easy Rider trike bike a 10 out of 10!
Jantiene Sloetjes
My Easy Rider trike bicycle
"The positive things about the bike is that I get ahead easily, with pedal support. I can't fall and the pedal support system is easy to use. Charging is very easy and the seating position is also fine. I have to take some time to make the bike my own, but I'm very happy with the Easy Rider. First I practiced close to home and now I make beautiful bike rides. I now come to places where I never came before. What I also like is that people greet me on the bike, they are happy for me. Finally freedom! I rate the Easy Rider trike bike a 10 out of 10! I really recommend it."

Jantiene Sloetjes - Hardenberg, the Netherlands
Bike: Easy Rider trike bike