Customer experiences
User experience duo bike Fun2Go - Monique Kuijk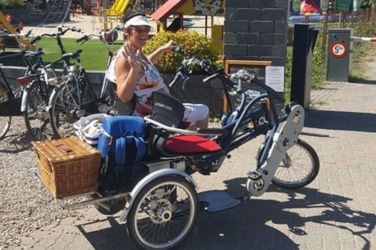 Wow what a cool gift, to ride the Fun2Go for 3 days. Along the way a lot of people were watching, honking and waving. We enjoyed it.
Specifications
(RAL 5011) Mat Steel blue
Armrest (foldable), Pedal assist, Footrest (retractable)
Configure your bike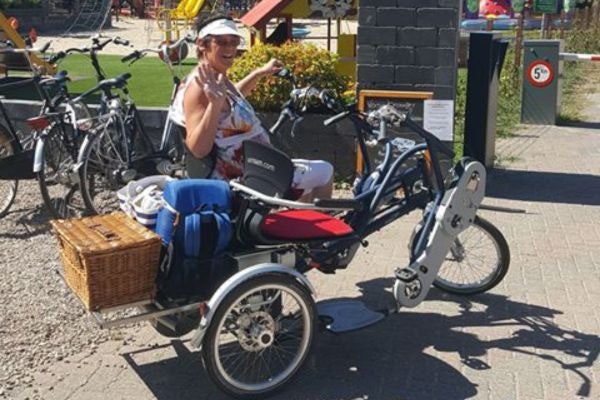 Friday 3 August 2018 was the big day. The duo- bike came. Wow what a cool present! For 3 days we were able to cycle with the Fun2Go duo bikes with a giant filled picnic basket. Our granddaughter Sophie waited in excitement for what was to come. Grandma quickly went to the shop for a 20GB 'thing' for the smartphone. After a beautiful explanation we left in the direction of Flierbeek hof and then to Wentholtpark. Sophie and her 9 years had paid close attention! It was easy cycling, and we enjoyed the beautiful weather and the route. At 11 o'clock grandpa was also in the Wentholtpark for a juice and sandwich. The geese and deer watched tensely what was coming. We enjoyed it to the fullest. A pee break at my house and on to Groenlo. There we ate a fish and went further on to Eibergen. We just made it with the battery.
Luckily my daughter Madelon was home, and we could charge the batteries. We went back after a delicious soup.
On the way there were lots of people watching, honking and waving. We enjoyed ourselves.
Monique Kuijk
Enjoying a beautiful day
At half past seven in the evening we were back home. We were exhausted, but both of us were overjoyed about this beautiful day. Along the way we had a lot of people watching, honking and waving. We enjoyed it. On Saturday I went with my husband via Bredevoort to Winterswijk and back again. On the way we recharged the battery and pumped up the tires.

What a wonderful price, our sincere thanks.
Van Raam mother day contest 2018
The daughter of Monique was one of the winners of the Van Raam Mother's Day win-action. She had nominated her mother for the prize and with the whole family they could use the Fun2Go duo bike including a filled picnic basket.

After the weekend with the duo bike we received a beautiful bunch of flowers and a nice card from the Kuijk family, thanks for this!

Monique Kuijk - Lichtenvoorde
Type: Fun2Go