Customer experiences
Customer experience side-by-side tandem Fun2Go - Jetske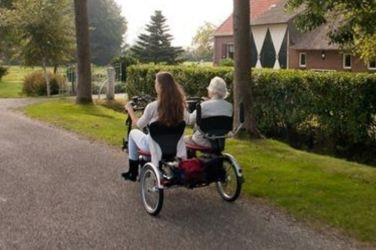 At Van Raam we are very happy with the adventures, outings and bike rides that end users can experience (again) through our adapted bikes. We really enjoy reading messages from end users. Read the experience of Jetske below who, together with her mother and daughter, made a nice bike ride with the Fun2Go side-by-side tandem.
Three generations with the side-by-side tandem Fun2Go
Jetske's mother has lived in the same region for 78 years. She grew up as a real farmer's daughter and was used to having a lot of space around her. Unfortunately, Jetske's mother is no longer able to cycle independently, which is why Jetske thought it would be a good idea to go on a bicycle ride with her mother and daughter. During this trip they cycled past all kinds of famous places where Jetske's mother used to come. Jetske's mother enjoyed the ride a lot and told everyone who wanted to hear that she was "out with three generations."

Jetske thought the big advantage of the side-by-side tandem is that you can cycle and sit next to each other: "The side-by-side tandem has pedal suport, you can determine how much support you get."

Just in time for dinner, the three ladies returned home satisfied.
When we suggested to go for a bike ride with a side-by-side tandem, she was immediately in favor of it. She also enjoyed the trip to the fullest.
Jetske
Exploring the area with a tandem bike
Did you know that it is also possible to explore the surroundings using our adapted bikes without having to buy them first? Our adapted bikes are available for rent at various locations. In this case, the Fun2Go tandem bike is a popular choice for many care institutions and nursing homes. You can easily borrow a tandem bike for a day. Jetske did this with her daughter and mother as well.
Jetske - Overijssel​ (Netherlands)
Bike: Fun2Go