Customer experiences
Customer experience side-by-side tandem Fun2Go – Henk and Ina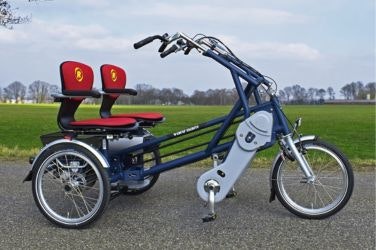 Henk and Ina have their own custom Fun2Go double rider cycle. With Ina as main rider and Henk as co-rider they enjoy many rides and the nature and surroundings around them. In this article, Henk and Ina tell more about their experiences.
Specifications
(RAL 5011) Steel blue matt
Pedal assist, Stick holder, Basket
28 February 2019 purchased
Configure your bike
From e-bike to test ride on the Fun2Go side-by-side tandem
Ina: "Previously, we used to cycle on an e-bike, but when we went on a bike ride I realized that when my husband looks around, he forgets to pedal. Henk can't judge traffic so well anymore and on a bike like that it's very dangerous. At a certain moment we saw a side-by-side tandem at the residential care center near us and we thought: that could be a solution for us! We rang the doorbell and asked if we could try the bike. It looked like a bumper car, a very funny feeling."
Application to the municipality
Ina: "We looked for a side-by-side tandem ourselves on the Van Raam website, but there's a price tag. We then submitted an application via the municipality in September 2018. We were lucky to get a loan bike from RSR Revalidatiecentrum, they had an entry-level model in their showroom to fit which we were allowed to use in the meantime. Last February we received our own Fun2Go side-by-side tandem."
 
Henk: "It's unbelievable that the municipality is willing to make something like this available to us, that's wonderful! As far as that's concerned, they have cooperated incredibly well with us."
There is still so much to see and do for people with a handicap or who are a bit less mobile and can not cycle independently. It's like a new world is opening.
Custom Fun2Go side-by-side tandem and options
Ina: "My husband has nothing wrong with his legs, so we wanted him to cycle at his own. But the way the equipment was, he kicked along, but it didn't really do anything. Henk wants to feel he is pedaling but also wants to decide that himself. Van Raam has adjusted that and now Henk can switch gears himself; he can decide for himself how he wants to pedal. We also opted for a stronger battery. With the RSR loan bike we didn't get very far with a standard battery; there was quite a lot of weight on the bike with the two of us. But we also wanted to get a bit further from home and with the Fun2Go we have now we can cycle where we want to. Furthermore, we have a stick holder for the bike."
Experiences so far
Henk: "We have had a great time with our Fun2Go, also in terms of rage (electrical support). Every time we cycle, it feels like we are on holiday. It's such a pleasant sensation to cycle next to each other, that's what we would like to wish everyone. There is so much beauty and fun to experience for people who are 'handicapped' or a bit less mobile and who can't cycle independently. It's like a new world is opening. We are so happy with our bike! We can talk to each other while cycling and I can look around more. I think it's a great thing that all of this is possible. And what's also nice is that when we make a ride and people see us on our bike, that they are really interested. Of they don't even know something like this exists. If we can create some more attention for special needs bikes, it could help a lot of people."

Ina: "It's just a lovely bike and it's also a very nice way of cycling. It's cozy and what strikes me the last few days is that if my husband looks around and he doesn't pedal, he is still safe on the bike. We are very happy with it and we're also one of the few individuals in our neighborhood who have such a bike available which is also suitable for the Social Support Act (Wmo), that's a luxury. We can take it whenever we want and that's well spent as we like to ride the bike. We've been cycling on it since April 2019 and the counter is now at about 1250 kilometers!"
 
Henk and Ina – the Netherlands
Model: Fun2Go