Customer experiences
Customer experience Balance low entry bicycle - Susie Jolink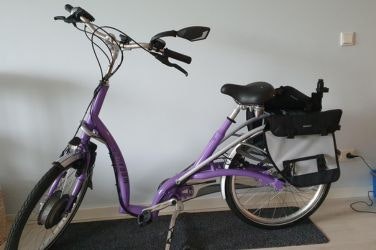 When Susie is diagnosed with avascular necrosis, Susie is dealt a huge blow. She can no longer walk and is bound to her wheelchair. Despite not being able to cycle for a long time, she does not give up. She has a clear goal in mind: "I would like to ride my bicycle again."
Specifications
Balance low step through bike
Pedal assist, Mirror, Stick holder, Panniers
Configure your bike
A huge bummer
Susie: "I am a woman of almost 60 years of age. I work full-time and live in the heart of the village of Ridderkerk. My hobbies are working, reading, drawing and painting. In 2017 I was diagnosed with avascular necrosis. I was no longer allowed to walk and so I became a wheelchair user. That was a huge bummer for me. Fortunately, I was allowed to start rehabilitation in 2019, and that's where I came across the exercise bicycle, which has been my focus from then on. I really wanted to get back to cycling outside."
The contact with the dealer is incredibly good. Very nice people and excellent explanation.
Susie Jolink
Looking for a tricycle
"Previously I cycled on a Batavus bicycle with pedal assistance, due to a knee injury. Since the beginning of August 2021 I have had my lilac purple Van Raam Balance low entry bicycle. I ended up at Van Raam by searching on Google. Initially I was looking for a tricycle. I had a test rideat home with two types of tricycles from Van Raam, but I live in an apartment complex and that didn't seem very convenient. The Balance is a two-wheeler, so that's fine."
Happy to cycle again
"I purchased the Balance myself through Roerade Fietsen in Rotterdam. The contact with the dealer is incredibly good. Very nice people and excellent explanation. They delivered the bicycleto my home and came back later to adjust the saddle and handlebars. The Balance took some getting used to. My arm strength was not yet good enough, but fortunately that has now gone. I am so happy that I can cycle again! I have a number of options on my low entry bicycle: a rear view mirror, cane holder and double panniers. I also use the Van Raam E-Bike App. Especially to see how many kilometers I've cycled and at what speed."
The Balance has a great battery, good brakes and a solid design.
Susie Jolink
Every cycling moment a party
"Since August I have cycled about 300 kilometers with the Balance low entry bicycle. It's a little less than planned, but that was due to a minor accident at home that made cycling impossible for a while. The Balance has a great battery, good brakes and a solid design. And the fact that you can reach the ground with two feet at the traffic lights is ideal. With the various pedal assistance settings, you can get back on track in no time. For me, every cycling moment is a party. I experience the absolute freedom of cycling as a major plus. On a scale of 1 to 10, I give the Balance low entry bicycle a 9.5."
 
Susie Jolink – Ridderkerk, the Netherlands
Bike: Balance low entry bicycle
*Due to privacy reasons the name of the customer in this customer experience has been changed. test