With a 5-point belt, you can secure your upper body at five points on the seat of your bike. The belt runs over your shoulders, hips, and between your legs, keeping you sitting upright and preventing you from sliding down. It fastens with a simple click system, providing extra stability and safety while cycling.
Order a 5-point belt at a Van Raam dealer
You can order this option from your Van Raam dealer, and it's also possible to have the belt mounted on your bike later by your dealer.
Read all 5-point belt customer experiences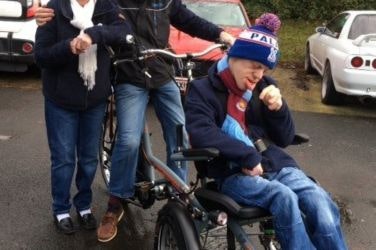 User experience OPair Wheelchair Trike – Adam Pyle
Adam Pyle is 25 years old and has profound Physical and Learning Disabilities. Together with his mum Kate and his dad Graham, he lives in England. In January 2020 they received the OPair Wheelchair Trike. Kate tells us more about Adam and why they bought the OPair Trike.
Read this customer experience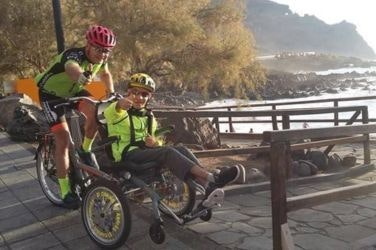 User experience wheelchair bike OPair - Richard Hernández
Cycling eight hundred kilometers with a wheelchair bike without pedal support. That sounds like a challenge. A challenge that Richard Hernández accepted together with his disabled son Andrés. Together they cycled the pilgrimage route "Camino de Santiago". For centuries this route has been used by believers to pray at Santiago de Compostela, in the North-West of Spain, at the grave of Apostle James. Usually this route is taken by foot, but Richard and his son Andrés decided to make the trip from Roncesvalles with the OPair wheelchair bike and they called the route symbolic: "El Camino de Andrés". Read their story below.
Read this customer experience
;
Specifications
| | |
| --- | --- |
| Price (OPair) | Child € 275 (excl. VAT and shipping), Adult & Adult XL € 269 (excl. VAT and shipping) |