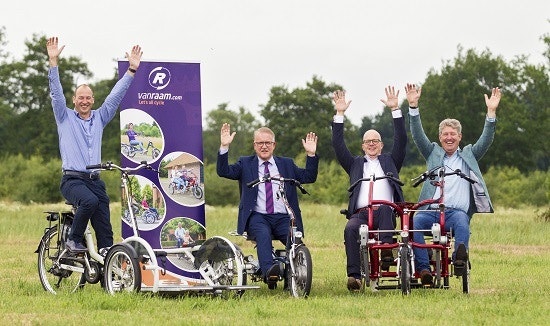 News
Van Raam is moving but will remain in Varsseveld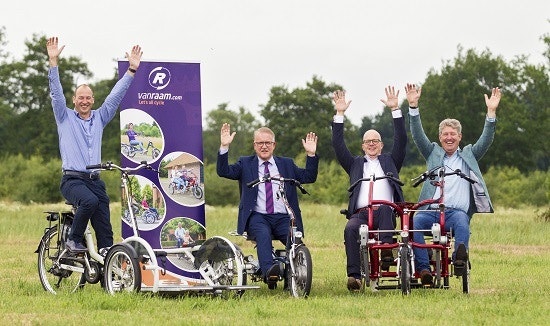 Due to growth in recent years, Van Raam has outgrown its current location at Aaltenseweg 56 in Varsseveld.
As a Varsseveld company, we have managed to find a new location in town. We have purchased a 2.5-hectare plot on the Hofskamp business park and expect to commence construction of a completely new building in 2018. The new site will be located approx. 1 km from our current location.

Please read the complete press release below.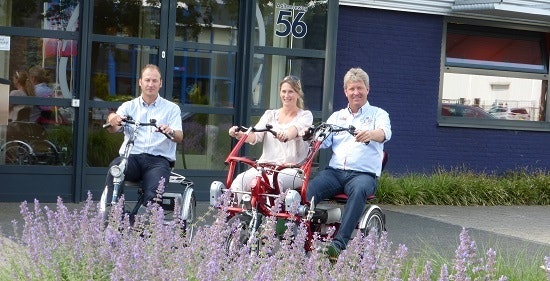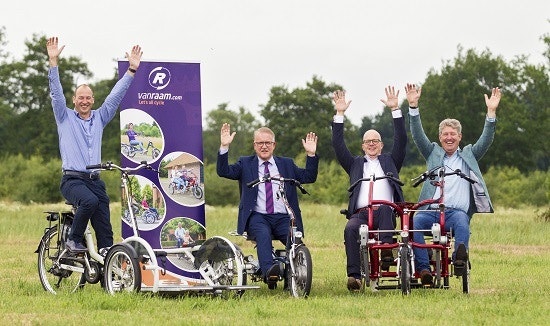 Press release: Van Raam purchases company lot on Hofskamp business park in Varsseveld
The Varsseveld company Van Raam - manufacturer inunique, special needs bikes - will be moving to a new location on business park De Hofskamp in Varsseveld. Van Raam recently purchased a plot of land from the municipality and will establish its new company premises there.   

By selling this plot to Van Raam, this unique and innovative company will remain in the town. Additionally, the acquisition of the land (of over 2.5 hectares) is also a great impuls
Van Raam is a family business with over 100 years of experience. With around 130 employees, Van Raam manufactures special needs bikes for people with reduced mobility or adults and children who cannot ride a standard two-wheel bike. Nowadays, Van Raam tricycles, side-by-side tandems, wheelchair bikes and twins are not just sold within Europe, but also in the US. Van Raam is a world leader in this sector and the company is often referred to as an example in terms of smart industry and social innovation. Van Raam bikes are characterised by their Dutch quality and modern design. Under the slogan 'Let's all cycle', each bike is uniquely produced in Varsseveld.   

Van Raam is a flourishing company and has outgrown its current location at the Aaltenseweg 56 in Varsseveld. Van Raam's history begins in Amsterdam in 1910. In 1972, the company moved to Aalten. In 1984, the company was acquired by a new owner, Piet Boezel. As a result of how much the business had grown, it moved to Varsseveld in 2004. The special needs bikes are now produced here on a 6,800m² site.

Due to enormous growth in recent years, this location has already become too small. With future growth in mind, the company wanted to find a suitable piece of land of 25,000 m². There were multiple options in several towns.

However, as a Varsseveld company, it ultimately managed to find a new location in its hometown. A new building of approx 12,500 m² will be built on this newly acquired piece of land. The new building will include an extensive showroom where potential customers from the Netherlands and abroad will be able to try out a wide selection of Van Raam models. In addition, there will also be the possibility to test the bikes outside. The factory will be designed in such a way that most modern production and assembly techniques can be applied, which will be tailored to highly efficient internal logistics.

Van Raam expects to commence construction in 2018 and intends to move all its employees to the new building at the Guldenweg 23 in Varsseveld in 2019.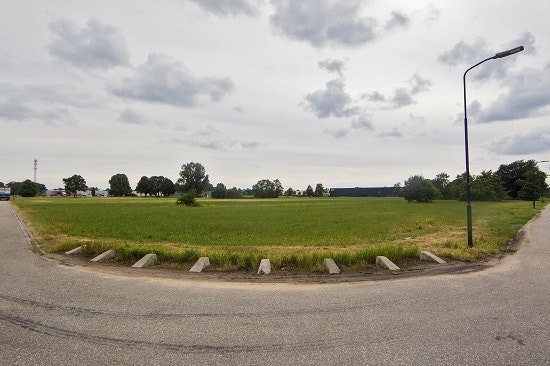 The new location lies approximately 1 km further on the Guldenweg.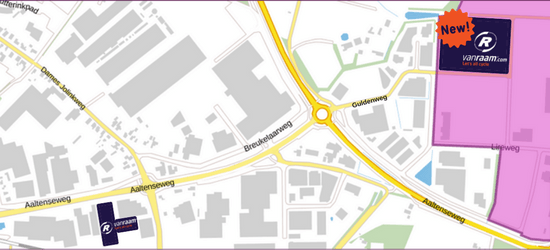 The location of the old (left) and new (right) location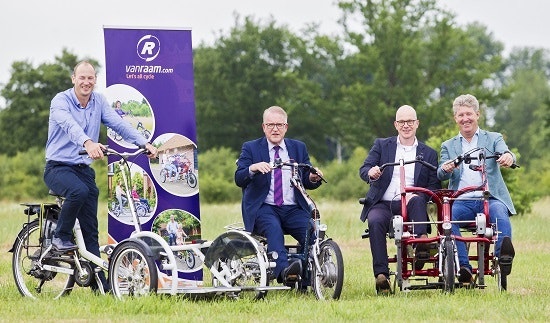 Stay updated on the new construction project
Read what's new about the new premises on this special page. It is updated regularly.
Wondering what the new Van Raam building will look like?
Do you have any questions?
We are happy to assist you! Please check our contact page or contact us directly using the options below.