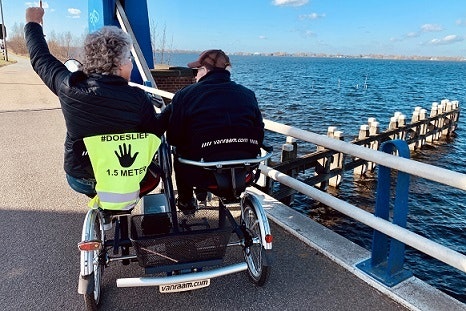 News
Nursing home raises money for second Fun2Go duo bicycle
Bikes

\ Side by side tandem bikes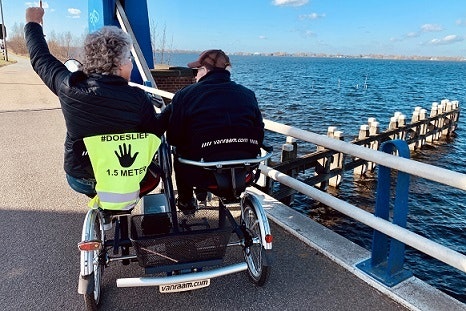 Nursing home Careyn Maria-Oord in Vinkeveen (NL) has started a fundraising campaign for a second Fun2Go duo bicycle from Van Raam. In exchange for a donation, donors can make a bike ride on the current Fun2Go, but free gifts are also welcome.
Fun2Go and VeloPlus popular at nursing home
Nursing home Careyn Maria-Oord in Vinkeveen (Utrecht, The Netherlands) already has a VeloPlus wheelchair bike and a Fun2Go side-bys-de tandem in its possession. They would like to add a second Fun2Go.
The Fun2Go is very popular among our residents. Especially on hot summer days we notice that there is much demand for it
Welfare employee Esther Karsemeijer
Fundraising campaign for extra Van Raam Fun2Go
To give residents an extra opportunity to use the Van Raam Fun2Go in the nursing home, Careyn Maria-Oord has started a fundraising campaign. From 1 to 30 April 2021, Tour de Maria-Oord will be organised. Donors can donate an amount and receive something in return. For example, a donation of €25 will enable donors to take an hour-long ride on the Fun2Go duo bicycle together with an elderly person. For €30, donors receive a piece of cheese from Kaasboerderij Sterreschans and for €35, they can ride for an hour on the Fun2Go, followed by coffee and cake.
Platform "Voor de Ouderen" supports fundraiser
The nursing home set up the fundraiser via the online platform "Voor de Ouderen". This platform supports fundraising activities aimed at the welfare of the elderly. Stichting RCOAK, Fonds Sluyterman van Loo, Stichting Dioraphte and Fonds 1818 together form the platform voordeouderen.nl. Initiatives in the Netherlands that focus on activating the elderly can use the fundraising platform. Initiatives have a chance of winning a contribution of up to €2.000 and up to 50 percent of their target amount from the platform. Careyn Maria-Oord nursing home has received the maximum amount of €2.000.
Ways to raise money for an adapted bicycle
There are several ways to fund a Fun2Go side-by-side tandem. This can be done with your own financial means, or with a donation. It is also possible to start a fundraising campaign. Read more about this in the article 'Tips for raising money for a special needs bike'.
Fun2Go side-by-side tandem by Van Raam
The Fun2Go side-by-side tandem by Van Raam is a tricycle where the driver and co-driver sit next to each other. One person steers and both persons can pedal. Both persons have a good view of the road and surroundings and can easily communicate with each other. This makes the Fun2Go a popular bicycle for care institutions. Read more about the Fun2Go duo bicycle on the product page.
Do you have any questions?
We are happy to assist you! Please check our contact page or contact us directly using the options below.