News
Fun2Go duo share-bike available at U-Stal in Utrecht
Bikes

\ Side by side tandem bikes
In Utrecht (Netherlands) you can make use of a Fun2Go double share bike. The permanent location of the bike is the U-Stal bicycle shed at Laag Catharijne. The first duo bike was unveiled by, among others, Jelle Bakker, the bicycle mayor of Utrecht.
Fietsmaatjes Utrecht
The foundation Fietsmaatjes Utrecht (Bicycle Companions) was established in June 2023. Currently, they are actively fundraising to acquire tandem bicycles. The expectation is that in 2024, people will be able to ride tandem bicycles with Fietsmaatjes in Utrecht. For more information, please visit the Fietsmaatjes Utrecht website.
Festive inauguration U-Stal bike
On 30 June 2022 the first U-Stal duo bike was unveiled by bicycle mayor of Utrecht Jelle Bakker, alderman Rachel Streefland and Pieter Mosterd of U-Stal. The mayor and alderman Streefland made the first ride on the bicycle.
Plan for duo-bike by Utrecht bicycle mayor
Jelle Bakker, bicycle mayor of Utrecht, pleaded in an interview with RTV Utrecht for shared bicycles in Utrecht. He also mentioned that he found it strange that there was not yet a location for Fietsmaatjes in Utrecht.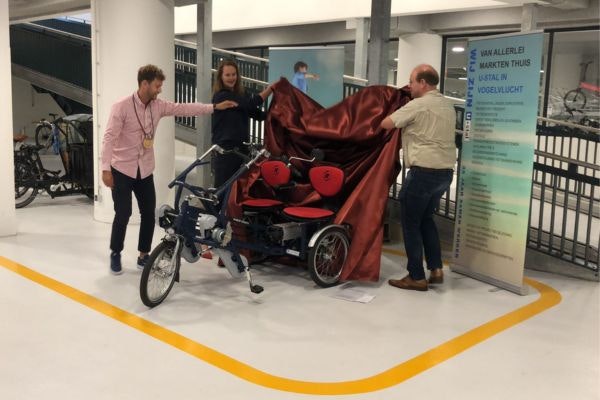 U-Stal duo bike is an anniversary gift
The call of the bicycle mayor was picked up by U-Stal, the organization that manages the bicycle parking facilities in the city of Utrecht. In 2021 U-Stal existed 35 years, they wanted to celebrate this by giving the city of Utrecht a duo bike as a present. The bicycle can be reserved for a small amount per part of the day. The permanent location of the U-Stal duo bike is at the parking facility Laag Catharijne (Catharijnesingel 28).
Fietsmaatjes Utrecht
In the coming period, the bicycle mayor wants to set up a department of Fietsmaatjes in Utrecht. Fietsmaatjes (in English bicycle mates) is a foundation that allows people who are no longer able to cycle independently, to make a bike tour together with a volunteer on a duo bike. Read more about Fietsmaatjes in the article 'Fietsmaatjes on side by side tandem'.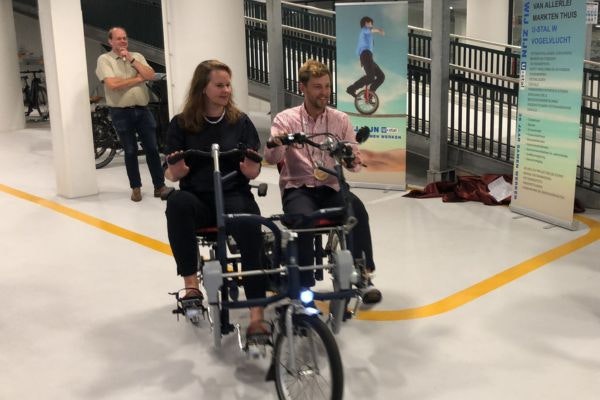 Fun2Go U-Stal duo bike
The U-Stal duo bike is a Fun2Go from Van Raam. On this bike you sit next to each other, so you can communicate while cycling. The driver has full control of the bike, the passenger can optionally pedal along. This makes this bike very suitable for cycling with people who can not (or no longer) independently participate in traffic. Some other advantages of the Fun2Go duo bike are:
Easy to operate with small turning radius

One person is steering both can pedal

Comfortable and adjustable seats with backrest
Multiple initiatives for adapted shared bikes
There are multiple initiatives for adapted shared bikes. Read more about them in the articles below:
Do you have any questions?
We are happy to assist you! Please check our contact page or contact us directly using the options below.