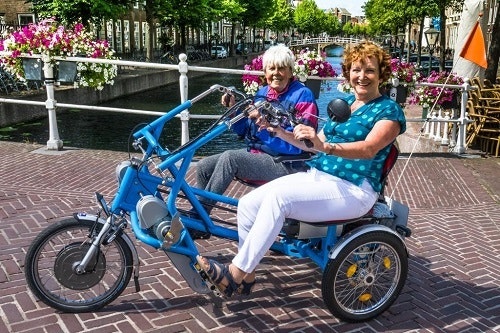 News
Fietsmaatjes on side by side tandem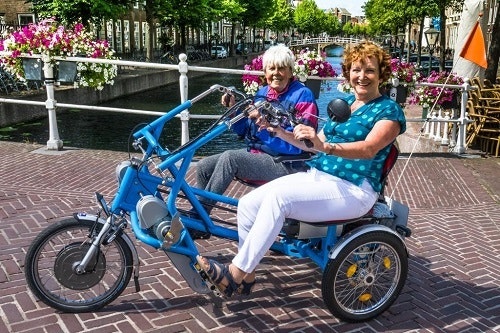 Fietsmaatjes; in English bicycle mates, is a foundation where a volunteer and a guest, make wonderful cycling trips together on a side by side tandem​ with electric pedal support. The guests Fietsmaatjes can no longer cycle independently; thanks to Fietsmaatjes this is possible again! Together they have nice contact with eachother and they enjoy the surroundings while they keep on moving healthily.
Fietsmaatjes concept (guest + volunteer)
"Fietsmaatjes" is meant for everyone who likes to go outside, wants to keep moving and loves social contact, but due to a disability can no longer cycle independently. For example, for people with a disability in movement, vision, hearing or cognition. People who suffer from loneliness are also allowed to register as guests. After an intake interview, each guest is linked to a volunteer. Together, the guest and volunteer make cycling trips on the duo-cycle with pedal assistance, where the volunteer steers and pedals and the guest can pedal along.

The goal is to offer people who still want to cycle but are no longer able to do so on their own, cycling tours of about 1-3 hours. With these regular cycling tours, the (possible) isolation of the guests is broken, the guests in a cozy way literally in motion and create unique contacts between guests and volunteers.
Fietsmaatjes in figures
The Fietsmaatjes Project has cycled with a total of 2.138 guests together on a duo bicycle. They did this with 2.338 volunteers. A total of 21.481 rides were made with 142 duo bikes (annual figures 2022). 
Fietsmaatjes mean that people are more likely to be outdoors, to be more active and to have more social contacts. Cycling and enjoying together!
The origin of Fietsmaatjes
The Fietsmaatjes project originated in 2012 in Teylingen and soon turned out to be a success story. In 2017 the 5-year anniversary of Stichting Fietsmaatjes Teylingen was celebrated and now there are many Fietsmaatjes projects in the Netherlands.

Fietsmaatjes has been selected by the Oranje Fond from a large group of initiatives to be successfully rolled out as a project throughout the Netherlands. In June 2018, the national website www.fietsmaatjes.nl was launched. By now, more and more cities are interested in the bicycle buddy concept.
The side by side tandem
You're sitting next to each other side by side tandem. These duo bikes or buddy bikes have electric pedal support to make cycling even easier. Many of the duo bikes of the Fietsmaatjesare equipped with a double battery package, so that you can cycle extra-long distances.
 
The volunteer has control over the bike and steers and pedals. If the participant/guest so desires, he or she can pedal along. The bike is very manoeuvrable: with the two wheels at the back and one front wheel, the bike can turn on its own axis! The bike has an adjustable seat, so everyone can easily adjust the bike.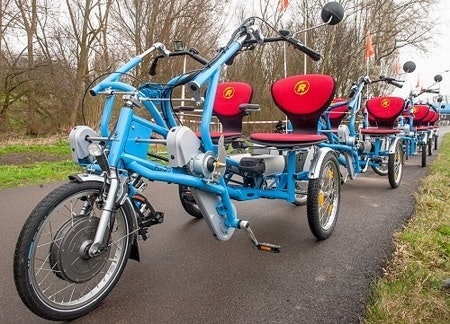 Cycling on a side by side tandem is truly fun for two!
Side by side tandem users have their say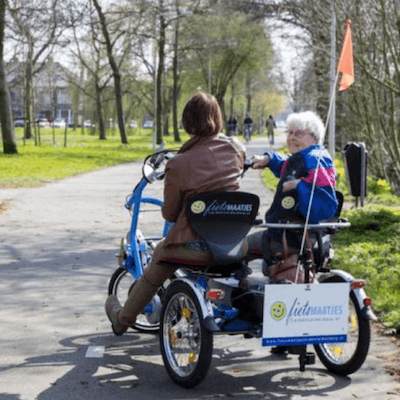 Leny Wiggers
"I'm so happy with the fietsmaatjes. Now I'm cycling again!"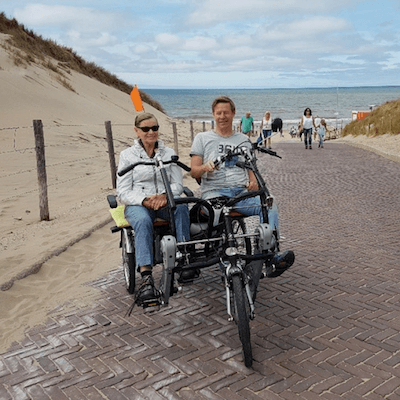 Mevrouw Hartman
"It's so nice to be back at the sea we used to go here a lot."
Gast Nel
"I give a lot of credit for the fact that there are volunteers who make this possible."
Film side by side tandem - project Fietsmaatjes
To celebrate the fifth anniversary of the Fietsmaatjes concept, a beautiful film was made by the Leiden film club LVSL. This film gives a nice overview of Fietsmaatjes in the region of birth, the Dune and the Bulb Region, of the first local organisation. Meet various guests and volunteers who cycle together as a buddy on the duo bike or wheelchair transport bike.
Fietsmaatjes selected for Appeltjes van Oranje
Fietsmaatjes was selected to have a change to win an Appeltje van Oranje 2020 in November 2019. Each year in the Netherlands, the Appeltjes van Oranje are awarded to social projects that successfully connect different groups of people and ensure that they participate in society again in. Every year, there is another theme linked to the award ceremony. The theme for 2020 was 'Maatjes ben je Samen' in Engelish: 'You are buddies together'. As soon as the 40 selected projects are known, a national voting process and the jury of the Dutch Oranje Fonds will nominate twelve projects. In the end, three of these twelve projects win an Appeltje van Oranje.

Fietsmaatjes was selected as on of the 40 projects with a change to win an Appeltje van Oranje. After the voting round, Fietsmaatjes was unfortunately not nominated for an Appeltje van Oranje, but they received a cheque of €1.500,-. There is a lot of appreciation from the Oranje Fonds for the Fietsmaatjes Project.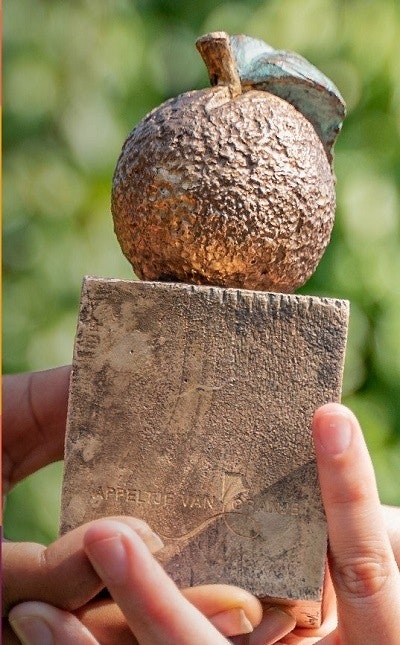 You are an inspiring example for other people who are willing and able to engage themselves for someone else.
Marc van Hal, deputy director Oranje Fonds
Locations Fietsmaatjes projects
It all started with Fietsmaatjes Teylingen and in the meantime more and more locations have been added in the Netherlands. There are a lot of various locations all over the Netherlands. See their website fietsmaatjes.nl for all the locations.
Online planning system for duo bike rides
SamenFietsen is an online planning system created by Anja Kroodsma & Tjitze Smit. They started in 2017 withFietsmaatjes Gelderse Vallei with several others. Tjitze and Anja have developed an online planning and administration system to facilitate the coordination of duo bike rides with Fietsmaatjes.Read more in the article: 'Cycling together with the planning system for the duo bike'.
King Willem-Alexander as a Fietsmaatje
On Thursday 28 November, King Willem-Alexander visited the foundation Fietsmaatjes in Warmond. The foundation Fietsmaatjes is part of the Growth Programme of the Oranje Fonds and King Willem-Alexander is patron of this fund. During the surprise visit, the king met the volunteers and guests of Fietsmaatjes, and he took a ride on a Van Raam duo bike Fun2Go.

Read more about this visit in the article "Dutch King cycles on Van Raam side-by-side tandem Fun2Go"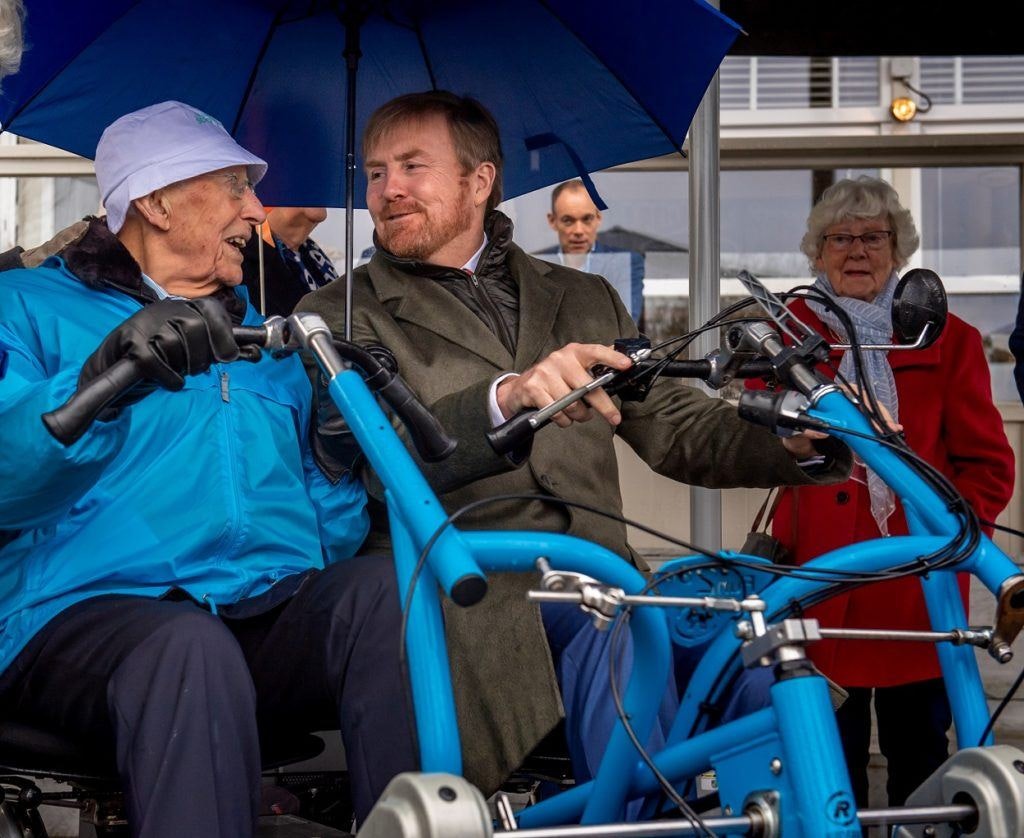 Do you have any questions?
We are happy to assist you! Please check our contact page or contact us directly using the options below.