Customer experiences
User experience walking aid City - Marion Bartels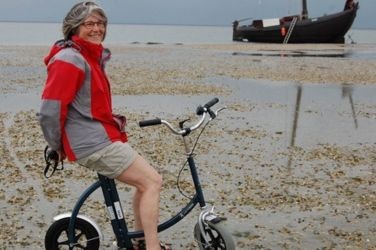 I wanted to show you this photo. What a great product. It even allows me to ride on mudflats, if the surface is solid.
On the mudflats with the walking aid
Marion Bartels is a very satisfied end consumer of the City walking aid. After she sent us the unique photo of her walking aid on the mudflats, we were very curious about the story behind this photo. She then told us the following:

"I would really love for the walking support to receive more attention. Due to a chronic fatigue I have very little energy left and can only walk a few hundred meters and cannot stand up for long periods of time. I've had the walking support for 3 years now and I use it daily. I use a wheelchair whenever I'm on the road for a longer period of time."
A great experience to 'walk' on the mudflats thanks to the walking aid.
Marion Bartels
"I was on my way to the Waddenzee with a 'Volendammer kwak' (type of boat) together with members of my choir Nada Brahma. Our captain sailed us to Engelsmanplaat and we waited until low tide. It was an extraordinary experience to see the water retreat, the crabs leave and the bottom of the sea appear slowly. My travel companions went wadlopen, something I loved doing before I got sick. We had brought the walking support to try and see if it was possible to ride it on the mudflats, which it was. It was a little difficult, but there were people who could push me."

Read the whole article about the walking aid in: 'Walking support bicycle for adults'

Marion Bartels- the Wadden Sea (the Netherlands)
Model: City